NI: Judge vows to take 'tough line' on flying beggars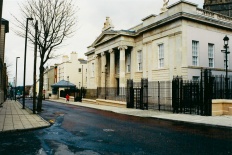 A judge has said he will take a hard line against professional street beggars who fly to Northern Ireland every six weeks on begging shifts.
Judge Barney McElholm made his pledge at Derry Magistrates' Court upon sentencing a 30-year-old mother of seven from Bucharest to two months' imprisonment after she admitted stealing vodka from the Strand Road Tesco in Derry last week, the Belfast Telegraph reports.
The district judge said he did not believe that Florica Crine Ispas was a true beggar, as she claimed in the wake of her arrest.
He said he thought she was in fact "a member of a professional gang of street beggars who could afford to fly into and out of Northern Ireland every six weeks, on a shift basis, to beg".
George Copeland, defending, said the woman had no passport but did have a visa visiting card which allowed her to travel from Romania to any EU country.
"She instructs that she flew in from Bucharest to Dublin six weeks ago and that she has been living on the streets of Dublin, Belfast and Derry since then.
"She was arrested as she walked through the check-out area while she was speaking on her mobile phone to her children in Romania and she forgot to pay for the vodka", he said.
Judge McElholm said she had similar convictions dating back to last December, yet she claimed she arrived only six weeks ago.
"I don't believe a single word of what she has said and I'm going to take a tough line in such cases in future. This woman in my view is part of a professional group of people who come here to beg and who then fly out again."
"These people are not genuine indigent street beggars. They fly in and out on six weekly shifts," he added.