NI: Judge calls for spitting on police to be prosecuted as ABH/GBH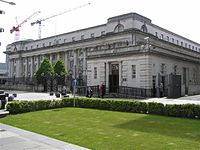 Spitting on a police officer during the coronavirus pandemic should be prosecuted as actual bodily harm or grievous bodily harm, a judge has said.
Judge Mark Hamill, sitting in Belfast Magistrates' Court, said the Public Prosecution Service (PPS) should take a harsher attitude while police officers are concerned about the risk of COVID-19 transmission, the Belfast Telegraph reports.
The judge yesterday jailed one man for spitting on a police officer and remanded another man suspected of spitting on a police officer in custody.
Both of the men were charged with assault on a police officer, among other offences.
Judge Hamill told the court: "In the current climate, to spit on someone's face is either actual bodily harm or grievous bodily harm. Convey that to the PPS please."
He added: "Anybody allegedly behaving like this in the course of a pandemic, I'm afraid, is going to be remanded in custody. There's the deterrent for everybody else."