Irish Association of Law Teachers issues call for papers ahead of 2019 conference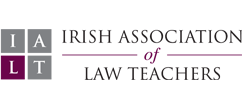 The Irish Association of Law Teachers (IALT) has issued a call for papers for its 2019 annual conference.
The conference will take place in Limerick this November on the theme Beyond Borders: Collegiality and Collaboration in Law.
The theme will also be the subject of a moderated panel discussion in the plenary session, followed by a roundtable discussion on the futures of legal collaboration on the island of Ireland.
Confirmed speakers for the plenary session include Professor Aoife O'Donoghue of Durham University, Professor Tobias Lock of Maynooth University and Dr Catherine O'Rourke of Ulster University.
More information about the conference and the call for papers is available from the IALT website.