ILN's primer series becomes a book – Practical Jurisprudence: Attempts to make legal philosophy interesting out now!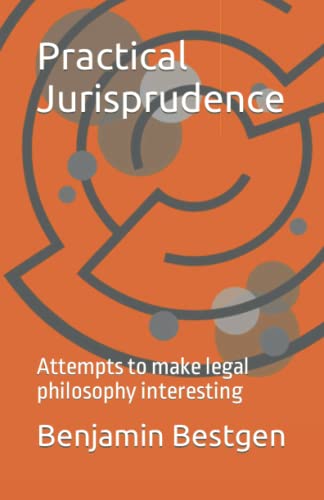 Are you looking for a stocking filler for the lover of legal philosophy in your life? Or perhaps you just want them to stop talking about it.
In any case, rejoice, for ILN's jurisprudential primer series has been turned into a book – just in time for Christmas.
Practical Jurisprudence: Attempts to make legal philosophy interesting is a compilation of articles written over the course of a year for Scottish Legal News and Irish Legal News by Edinburgh Law School graduate and practising lawyer Benjamin Bestgen.
The 52 original articles, penned during 2020-21, were a great success with readers. Now thoroughly revised and updated, they also include footnotes and commentary plus two extra primers that were written this year.
From marriage and animal rights to trust, corruption, killer robots, cognitive liberty, taxation, freedom of expression, swearing, dress codes, legal writing, torture, crime prediction, nanotechnology, rights over your body or self-defence against the police – the law provides plenty of occasions for reflection.
Many academic books on jurisprudence analyse philosophical concepts and set out theories. That is very important but also risks making jurisprudence appear detached from practical questions affecting not just lawyers but potentially anybody.
The book is now available on Amazon UK for £10.99 and readers can have a peek into its contents by clicking "Look Inside".
Scottish Legal News editor Kapil Summan said: "We here at Scottish Legal News and Irish Legal News are delighted to see Ben's efforts turned into a book and we thank him for his rich contribution to the publications.
"As the title suggests, the book's aims are practical: we hope the student reader will be bursting with ideas for essays and dissertations after reading it and that jurisprudence seminars, which are often places of slumber and confusion, will be enlivened with arguments inspired by its chapters."
Mr Bestgen said: "Thanks to Kapil's tireless support as editor, I'm absolutely delighted to finally have the entire year of jurisprudential primers together in one place.
"Based on feedback from the original series, practising lawyers enjoyed the articles just as much as law students did. The latter, I'm told, also liked the broad variety of subjects the primers touched on, which provided inspiration for finding suitable topics for essays and thesis proposals.
"One person told me they loved getting a flavour of philosophical thinking about legal issues that's informed by legal practice, not just theoretical abstractions.
"The positive feedback throughout 2020-2021 was a great motivator to work on this book and present it to the readers of SLN and ILN – and indeed anyone else who is interested."