High Court president 'speechless' at appointment of just five extra judges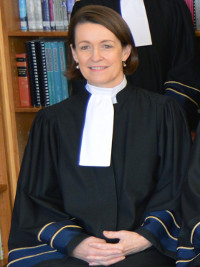 Justice Minister Heather Humphreys has defended legislation providing for five extra High Court judges in the face of criticism from the president of the High Court that it is not enough.
Ms Justice Mary Irvine told The Parchment, the magazine of the Dublin Solicitors' Bar Association (DSBA), that she is "sort of speechless" at the low number of judges that has been approved by government to help clear the backlog of cases.
The High Court president described the current situation in the court as a "desperate scenario" with a significant backlog of cases and a shortage of judges, adding: "We needed 12 judges three years ago. Now we need at least 17."
Ms Justice Irvine explained that the five new judges are "already accounted for". She said: "Two will have to be assigned to crime. We have people in custody for 18 months who are presumed innocent, awaiting trial. Those on bail are often waiting as long as three years."
Another of the judges will go to the strategic infrastructure and commercial planning list, which needs three judges but currently only has one.
A new extradition agreement will give Irish authorities access to all European arrest warrants and as a result Ireland's extradition list is "set to double, almost overnight". Ms Justice Irvine says that will require a judge being assigned there.
The fifth judge will be assigned to the asylum list to help deal with the backlog of cases there.
Ms Justice Irvine went on to explain how long backlogs can affect access to justice, saying that some cases are forced to be settled because the costs build up over the long wait time.
She said: "I don't understand how government doesn't seem to appreciate how important timely access to justice is for the citizen and for Irish business."
She went on: "I sometimes think the fact that we can always provide a judge for a very urgent case doesn't help our case [for more judges]. But the trouble is that to make room for that urgent case we have to cancel someone else's case. I often feel it's the small person that bears the brunt of the shortage of judicial resources."
Justice Minister Heather Humphreys insisted the appointment of five extra judges is a "considerable increase" and "one of the largest increases in judges in recent memory".
The minister also highlighted the "very significant investment" involved in appointing five additional judges, with each new appointment costing around €370,000 per year in salary, allowances and support staff.
Pressed on the timescale for the appointments, a spokesperson for the Department of Justice told Irish Legal News: "The government is committed to ensuring the courts are adequately resourced to ensure the efficient administration of justice. Arrangements are being made to fill the additional judicial posts in the High Court as soon as is practicable."