NI: High Court begins to hear judicial review brought by journalists against police raids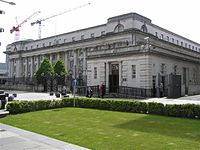 The High Court in Belfast has begun hearing a judicial review brought by two Northern Ireland journalists whose homes and offices were raided by police following the release of their documentary, No Stone Unturned.
Trevor Birney and Barry McCaffrey were arrested and questioned by police in August 2018 in connection with the documentary film No Stone Unturned. The pair have not been charged and remain on bail until September 2019.
The judicial review, expected to run for three days, will focus on the legitimacy of the search warrants used by police to carry out the raids.
Both the Police Service of Northern Ireland (PSNI) and Durham Constabulary are involved in the ongoing criminal investigation.
The two journalists are being supported by the National Union of Journalists (NUJ) and human rights group Amnesty International.
Due to the significance of the judicial review, the Media Lawyers Association, an association of in-house media lawyers from newspapers, magazines, book publishers, broadcasters and news agencies in the UK, have intervened in the case.
Freedom of expression groups English PEN and Index on Censorship have also submitted evidence and called for the search warrants to be ruled unlawful.
According to The Times, the UK Government has applied for public interest immunity (PII) certificates in the case to prevent some evidence from being made public.
Michelle Stanistreet, NUJ general secretary, said: "Journalists should never be targeted for simply doing their jobs and for shining a light on human rights abuses in Northern Ireland and crucially the state's complicity in the killing of civilians.
"The continuing legal threats faced by Trevor Birney and Barry McCaffrey and the way the search warrants were granted and used can not go unchallenged.
"This case has huge ramifications for the whole media industry and the NUJ will do everything it can to support those who fight for the truth."
Patrick Corrigan, Amnesty's Northern Ireland programme director, added: "This case is crucial to the freedom of the press in the UK. Journalists must be free to investigate issues of public concern without fear of arrest and imprisonment.
"When armed police are raiding the homes of journalists, while helping killers evade justice, there is something deeply wrong.
"Simon Byrne, the newly-appointed PSNI chief constable, ought to be deeply troubled by this case and the reputational damage it is causing the police force he is now set to lead.
"If he is wise, he will draw a line under this affair, apologise to Barry McCaffrey and Trevor Birney and commit the PSNI to putting the Loughinisland killers, rather than journalists, behind bars."