Government to block birthright citizenship bill by refusing money message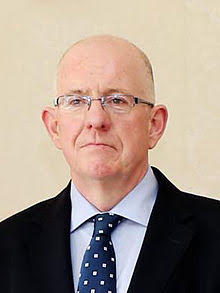 Draft legislation to restore the right to citizenship to all children born in Ireland will not proceed past the second stage in the Dáil after Justice Minister Charlie Flanagan told TDs yesterday that the Government would refuse a money message for the bill.
The Irish Nationality and Citizenship (Restoration of Birthright Citizenship) Bill 2017, brought by Solidarity TD Paul Murphy, would repeal sections 6(a) and 6(b) of the Irish Nationality and Citizenship Act 1956, as inserted by section 4 of the Irish Nationality and Citizenship Act 2004.
However, Mr Flanagan said that the "undoubtedly well-intentioned" bill would have "consequences that reach far beyond what may be immediately obvious".
He said the Government would refuse to grant a money message for the bill on the basis that it would place "strain on our own State services, including existing immigration provision, housing, education, medical services and welfare" because it would attract more people to Ireland.
Under article 17.2 of the Constitution, a bill with consequences for public spending cannot be approved by the Dáil without a money message signed by the Taoiseach.
The constitutional right to citizenship for all children born in Ireland was removed in 2004 in a constitutional referendum endorsed by 79 per cent of voters.
Speaking to TDs yesterday, Mr Flanagan added: "I would remind the House that the 2004 referendum which placed this rule in the Constitution arose following a call from the three Masters of the Maternity Hospitals in Dublin for a change in the law. They made their call because of their concern with the rapidly increasing number of mothers who were presenting for the first time at an advanced stage of pregnancy with consequent risks for the health of the mother and child and implications for the capacity of the maternity hospitals to function."