NI: Edwards & Co appoints Julie Tierney and Paul Lenehan as partners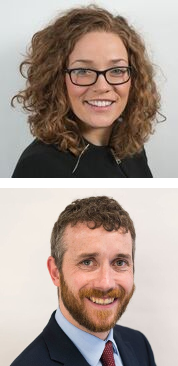 Belfast firm Edwards & Co. Solicitors has announced the appointment of Julie Tierney and Paul Lenehan as partners.
Ms Tierney, a family law specialist, joined the firm in May 2014 after heading up a busy family department in North Down since 2007.
Since qualifying as a solicitor, she has specialised exclusively in matrimonial and family law, advising clients on all aspects of separation.
Ms Tierney said: "I had set my sights on making partner from the day I graduate. I felt joining Edwards & Co. was a perfect career fit for me when I joined in 2014, and becoming a partner confirms that perfect fit."
Mr Lenehan, a commercial disputes specialist, joined the practice in 2016 after previous roles in Belfast, Australia and Lurgan.
He specialises in dispute resolution and litigation, advising the firm's commercial clients on matters of intellectual property, brand protection, defamation, libel, contractual disputes, debt recovery, corporate disputes and construction or property disputes.