Dr Vicky Conway and Paul Mageean appointed to Policing Authority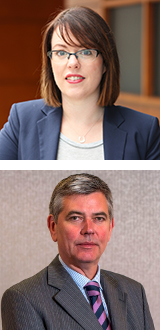 Prominent legal academic Dr Vicky Conway and solicitor Paul Mageean have been appointed to the Policing Authority.
Dr Conway, an academic lawyer lecturing at DCU, returns to the Authority, having previously been a member and having also served as a member of the Commission on the Future of Policing in Ireland.
At DCU, she lectures across a range of modules related to criminal justice and the operation of the legal system in Ireland, and is a leading researcher on Irish policing with an emphasis on the intersection between social change, police culture and police accountability.
Mr Mageean is a member of the Northern Ireland Human Rights Commission (NIHRC) and director of the Institute of Professional Legal Studies (IPLS) at Queen's University Belfast.
He previously served as legal officer for the Belfast-based Committee on the Administration of Justice (CAJ), headed the criminal justice secretariat in the Northern Ireland Courts and Tribunals Service, was director of the Graduate School of Professional Legal Education at Ulster University, and sat on the Criminal Cases Review Commission.
Announcing the appointments, Justice Minister Charlie Flanagan said: "I am delighted to appoint Dr Vicky Conway and Paul Mageean to the Policing Authority. Vicky and Paul bring excellent skills and a breadth of knowledge and experience which will be invaluable to the work of the Authority in its continuing oversight of the performance of An Garda Síochána.
"Their appointments are particularly important and opportune following the recent report of the Commission on the Future of Policing in Ireland and the implementation of its recommendations. I am delighted that they have agreed to serve on the Board and I wish them well in their roles."
Mr Flanagan also thanked Noel Brett, who is standing down from his membership of the Authority, for his work in the role.
The new appointments return the Authority to its full complement of eight ordinary members.