NI: Decision not to prosecute 15 former soldiers over Bloody Sunday upheld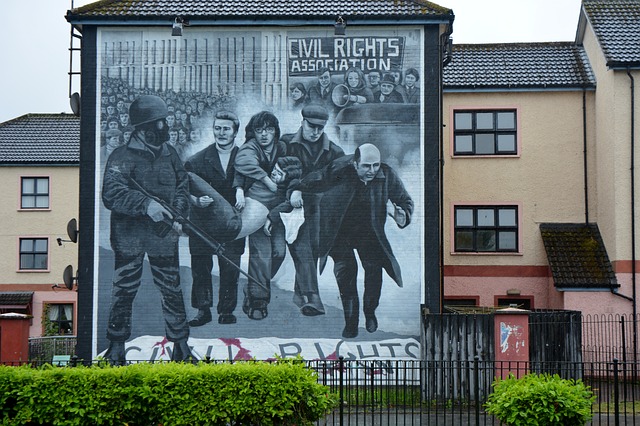 Prosecutors have upheld their decision not to prosecute 15 former British soldiers for murder, attempted murder and causing grievous bodily injury in connection with Bloody Sunday in 1972.
The Public Prosecution Service (PPS) conducted an internal review following its controversial decision in March 2019 only to proceed with the prosecution of the former paratrooper known only as "Soldier F".
The reviews of the cases of the 15 former soldiers, who had been linked to 10 of those killed and 10 of those injured on Bloody Sunday, were carried out by Marianne O'Kane, a senior assistant director in the PPS who was not previously involved in the cases.
The outcome is, however, likely to be challenged in the Northern Ireland courts. Madden & Finucane Solicitors, which represents the majority of victims, has said families have been left with "no alternative" but to consider judicial review proceedings.
Solicitor Ciaran Shields said: "Following the PPS decisions last March our office embarked upon a painstaking analysis of the reasons relied upon by the PPS to prosecute only one soldier, and only for some of the murders he was involved in on Bloody Sunday.
"Submissions extending to almost 150 pages were lodged with the PPS setting out why we considered their decision making was flawed and unlawful.
"Today's decision by the PPS to uphold its original decision and to bring no further prosecutions is deeply disappointing for the families and wounded who are left with the firm conclusion that members of the Parachute Regiment have effectively gotten away with mass murder.
"They are left with no alternative now but to consider challenging these decisions in the High Court by way of judicial review proceedings."
Meanwhile, lawyers for the family of Bloody Sunday victims William Nash, who was shot and killed, and Alexander Nash, who was shot and wounded, argue that the PPS failed to correct apply the consideration of joint enterprise.
Darragh Mackin, partner at Phoenix Law, said: "The concept of joint enterprise is a well-trodden path. Soldiers are not exempt from this legal principle and as such we have received formal instructions to challenge the decision by the PPS not to prosecute Soldiers J and P for the murder of our client's brother in circumstances in which they acted in a joint enterprise.
"It is clear from the PPS decision today that all of the charges have not been considered in this review. In light of the contents of this recent decision, we now intend on asking that the PSNI conduct an urgent investigation into the charge of misconduct in public office given its clear exclusion in the first instance."