Counsel rebuked over expert witness affidavit that 'should never have been filed'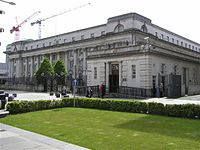 A judge in Northern Ireland's High Court has rebuked lawyers over an expert witness who said the planning permission at the centre of the case was "unlawful".
Mr Justice Michael Humphreys made the remarks after rejecting several grounds of challenge against planning permission for a GAA stadium in Casement Park, Belfast.
The judge cautioned the applicant's use of evidence throughout the case, including one expert witness whose evidence was replete with allegations that the planning permission was "unlawful".
He noted that this was an issue which was "demonstrably for the court to determine, not a planning consultant". This language demonstrated a "complete lack of understanding of the role of an expert witness in our legal system".
The court commented: "Solicitors and counsel owe obligations to the court to ensure the proper administration of justice and affidavits of this nature should never have been filed."