Cleaver Fulton Rankin launches ESG hub in Northern Ireland first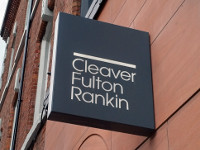 Belfast-based Cleaver Fulton Rankin has launched a new hub designed to support clients with legal matters related to environmental, social and governance (ESG) issues in business.
ESG issues have become more prominent in the wake of the pandemic, climate crisis and increased cost of living as stakeholders of businesses come to expect higher ethical standards and a greater sense of corporate responsibility.
The firm's new ESG offering will aim to help businesses respond to legislative and regulatory change and help deliver on their goals in this area by providing expert, multi-disciplinary advice on a range of legal areas such as: sustainable finance; green business loans; energy and climate action; environmental and planning; sustainable real estate; sustainable construction; data privacy; supply chain management; public procurement; and responsible employment practices.
The ESG hub is led by the firm's energy sector team, with key contacts including directors Joe Marley, who heads the commercial real estate team; Stephen Cross, head of banking and finance; Karen Blair, head of planning and environment; and Paul McBride, head of corporate and commercial.
Mr Marley said: "We recognise the importance of environmental, social and governance targets for businesses today and we are delighted to announce the launch our ESG hub, focused on supporting businesses in navigating the challenges and opportunities arising from the ESG agenda.
"We are pleased to be the first indigenous NI law firm to launch a dedicated ESG hub to support businesses throughout Northern Ireland.
"We recognise that stakeholders of a business are increasingly becoming more and more concerned with the impact a business has on the planet and its people and our ESG hub will offer expert legal support to clients and will also provide an insight into Cleaver Fulton Rankin's own commitment to ESG standards."