NI: Cleaver Fulton Rankin host Brexit roundtable for local businesses and Home Office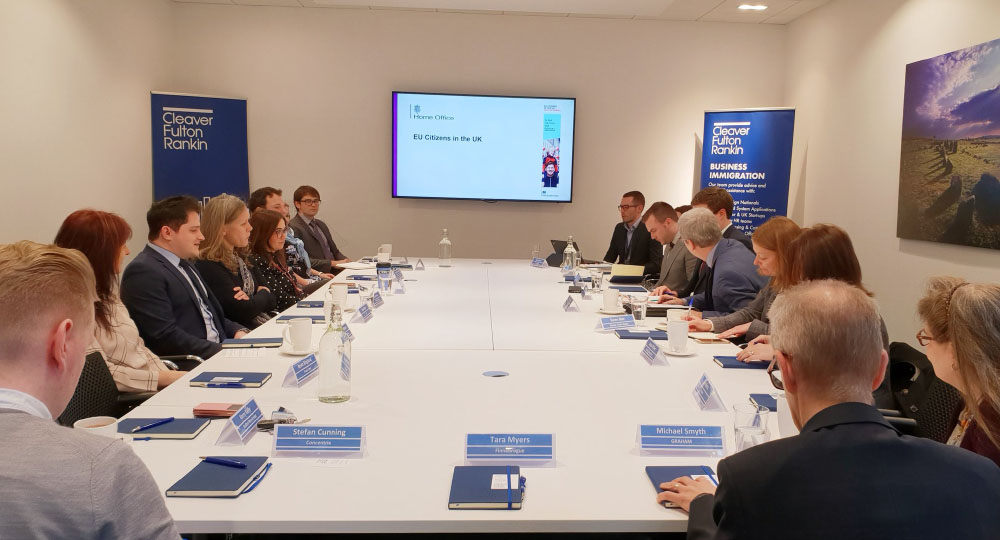 Belfast firm Cleaver Fulton Rankin Solicitors has hosted a Brexit roundtable on behalf of the Confederation of British Industry (CBI) and the Home Office.
Representatives from the Home Office yesterday outlined plans for the EU National Settlement Scheme, which is due to formally come into operation on 30 March 2019, and discussed citizens' rights in the event of a no-deal Brexit.
Karen Blair, chairman and director at Cleaver Fulton Rankin, welcomed HR representatives from Northern Ireland businesses who posed questions and concerns to the Home Office in relation to the proposed scheme.
Many of the participants at the event outlined the number of EU migrants employed within their respective companies and sought guidance from the Home Office on how best to regularise the legal status of European employees.
The Home Office covered how 'right to work' checks would be completed moving forward to afford a statutory excuse for employers. Among other areas of focus provided by the Home Office included the mechanics of how the scheme will operate, and the options available for more vulnerable members of our society.
Cleaver Fulton Rankin said the Home Office outlined interesting results of the pilot scheme, which provided the law firm with "some insightful areas of focus under the EU National Settlement Scheme".
Conor McCrory, associate solicitor and business immigration specialist, sought clarity from the Home Office on issues surrounding the scheme in the event of a no-deal Brexit.