NI: Belfast court challenge to prorogation listed for hearing tomorrow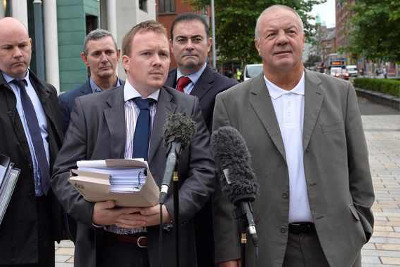 The Lord Chief Justice, Sir Declan Morgan, will hear victims' rights campaigner Raymond McCord's legal challenge to the prorogation of Parliament tomorrow.
Mr McCord launched the challenge in the High Court in Belfast two weeks ago in a bid to prevent the Prime Minister from suspending Parliament to force through a no-deal Brexit.
Solicitor Ciaran O'Hare of Belfast-based McIvor Farrell Solicitors is representing Mr McCord, who previously failed in proceedings aimed at preventing Brexit on the basis of the Good Friday Agreement.
Mr McCord's legal team returned to court this morning to seek an urgent injunction compelling Prime Minister Boris Johnson to reverse his advice to the Queen to prorogue Parliament next week.
Ronan Lavery QC, counsel for Mr McCord, told the court that the UK government had contradicted its previous assurance that it would not attempt to prorogue Parliament.
The case has been listed before Sir Declan tomorrow to hear legal argument in respect of the basis for the injunction.
In a statement issued this morning, Mr O'Hare said: "The use of prorogation in the circumstances is unconstitutional and a clear breach of the Good Friday agreement and the constitutional status of Northern Ireland within the United Kingdom.
"As has been predicted by police, politicians and commentators, such a policy is likely to lead to economic turmoil, if not long term recession, and medicine and food shortages.
"Indeed, the likelihood of civil unrest in the circumstances must be high, as well as a raising of sectarian tensions between groups in Northern Ireland. The delicate constitutional balance which has thus far been achieved, will be destroyed.
"Moreover, such actions are clearly in breach of the terms of the Withdrawal Act and the duty to ensure that any exit from the EU is orderly and steps are taken in relation to withdrawal to give due regard to Northern Ireland's constitutional position and the requirement to avoid a hard border."