NI: Attorney General Brenda King's term extended by one year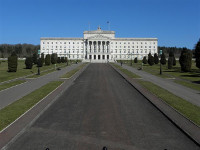 Dame Brenda King's appointment as Attorney General for Northern Ireland has been extended for a year.
She was appointed to the role on an "interim basis" last July, succeeding John Larkin QC after 10 years in the post.
Her term of appointment was initially for one year with the option of an extension subject to the agreement of both parties.
Although she started her legal career in the private sector as a solicitor in legal aid practice, Dame Brenda King now has over 25 years of experience drafting primary legislation and providing legal advice to ministers on the most complex and significant legal and constitutional matters.
She was appointed as the First Legislative Counsel for Northern Ireland in 2012, leading the Office of the Legislative Counsel (OLC), which principally drafts bills for the Northern Ireland Executive to introduce to the Assembly.
Ministers have also agreed to an independent review of the office of the Attorney General and have asked the former Lord Chief Justice Sir John Gillen to undertake this review.