Afghan women judges were 'hunted' by Taliban before relocating to Ireland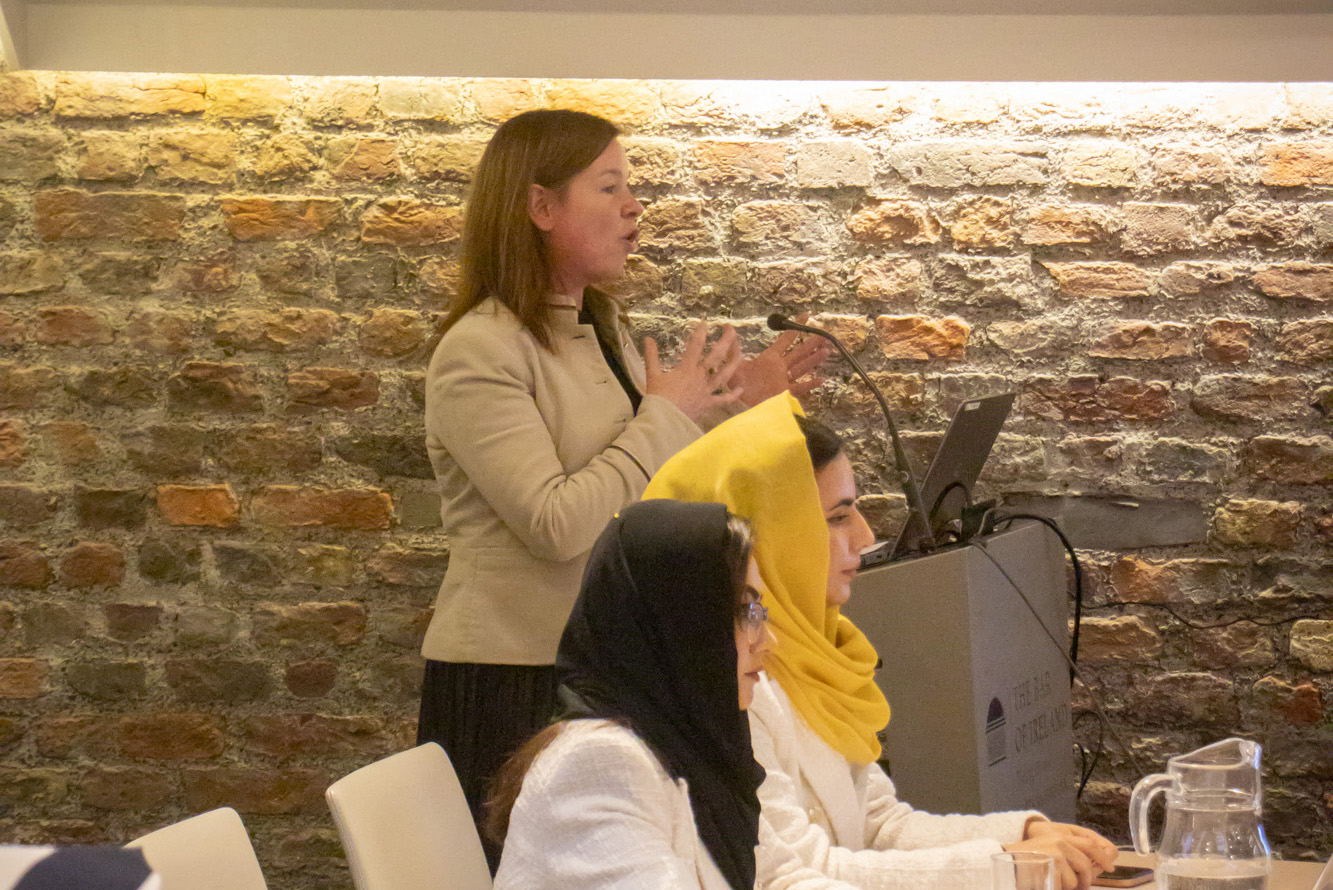 "Imagine for a second yourselves, imagine the hard work we've all put into our studies and going to university and working so hard and, through that, making a life within a legal community. For these women, they succeed. They are the success stories in Afghanistan. Then imagine having it all ripped away from you in the blink of an eye."
That was the message delivered yesterday by Ms Justice Tara Burns, president of the Association of Judges of Ireland (AJI), at an event organised by The Bar of Ireland to mark International Day of the Endangered Lawyer.
The date of 24 January was selected in memory of the Massacre of Atocha in 1977, where four labour lawyers and a co-worker were murdered, and four others were badly injured in Madrid, Spain.
Previous dedications have been to Colombia (2022), Azerbaijan (2021), and Pakistan (2020). This year, the Bar's human rights committee hosted a discussion with Afghan judicial colleagues who relocated to Ireland following the Taliban's return to power in 2021.
In her opening address, Aoife O'Leary BL, chair of the human rights committee, noted the turmoil which has hit Afghanistan over the previous two years.
Ms O'Leary said: "After the fall of the government of Afghanistan in August 2021, the entire judicial system was plunged into chaos when the Taliban took control.
"This prompted an unprecedented response from the international legal community with the International Association of Women Judges and the International Bar Association's Human Rights Institute leading efforts to evacuate the judges and their families."
One result of this international campaign was that the Irish government facilitated 10 female Afghan judges and their families in coming to Ireland.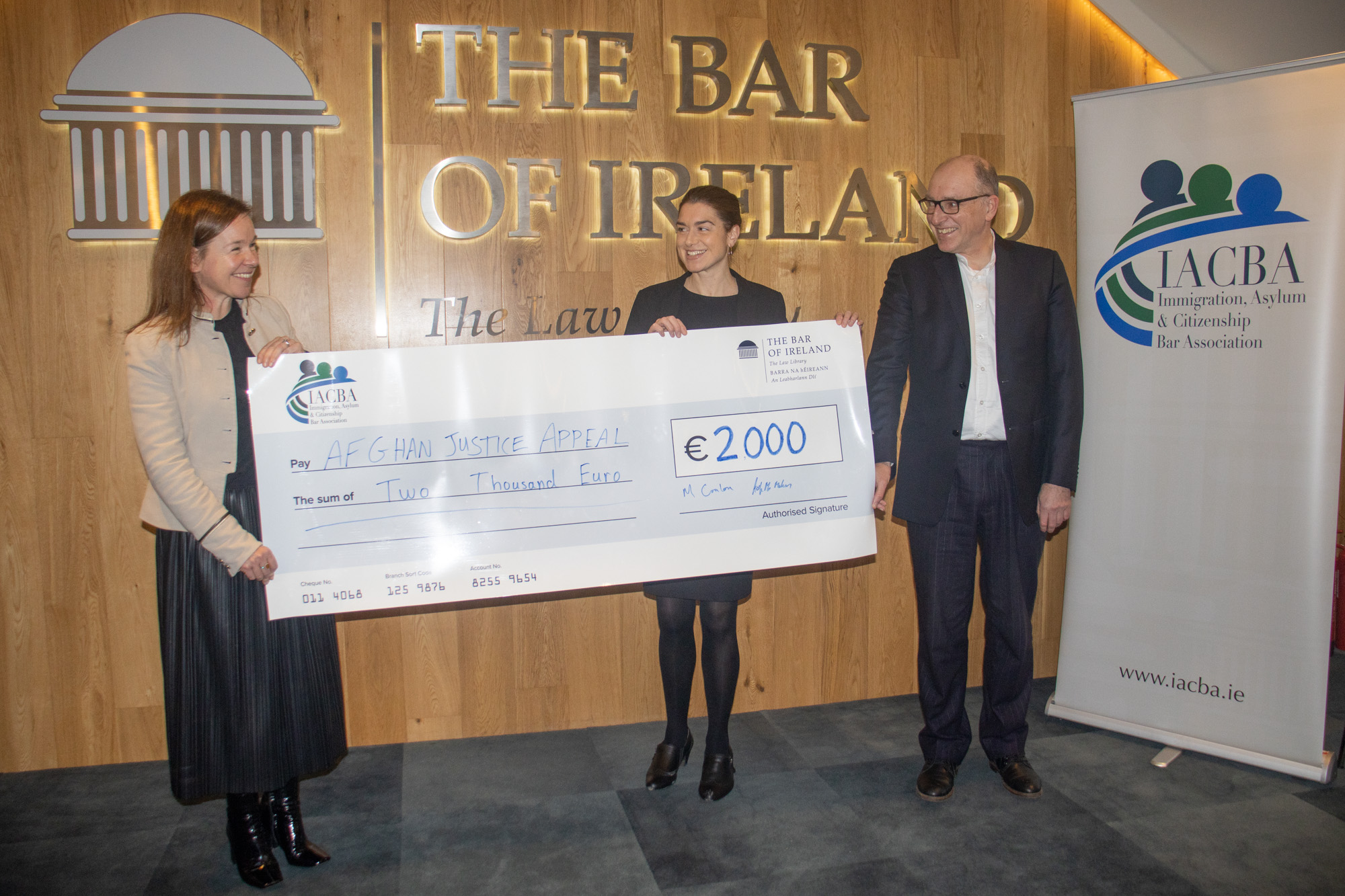 In a similar vein, Ms Justice Burns emphasised that, during her recent international travels, she had witnessed "quite frankly shocking stories" about employers throughout the globe and the dangers they face in relation to their everyday work, which includes both lawyers and judges.
Turning to the three Afghan judges in attendance, she noted that when the Taliban took power, they had to go into hiding. "They were hunted around Afghanistan with children in tow, and they had to hide from house to house," she said.
The first of the Afghan judges to speak, none of whom Irish Legal News is naming for their safety and that of their colleagues, said she was speaking for the 270 female judges who were actively employed in Afghanistan as well as the many female lawyers and prosecutors.
During her time in office, she said she and her colleagues "witnessed money, murder, and assassination during the performance of duty, and we will always worry about safety and our life".
She also criticised the men who replaced these women judges, who she described as "not professional at all" and having no idea of justice or the justice system.
The judge recalled: "I was in a very bad situation during this time. Every moment I was worried that the Taliban would find and kill me." She stressed the mental toll that she faced, worrying about the safety of herself and her family members.
The second Afghan judge to speak also highlighted how happy she was that her life and family were safe after having come to Ireland. However, she too noted that there are some judges who have not yet escaped from Afghanistan and whose safety is in doubt every day.
One of the judges talked about how she had never really expected to become a judge. Even before the Taliban took control, being a judge was not a common career path for women. However, she sat her legal exams and was surprised to find that she had passed.
She applied to become a prosecutor, but instead began lecturing in a university. She got married, and had two children, but her family supported her throughout her training and exams to become a judge. Ultimately, she was appointed to a special criminal court, being among the first few female judges appointed to that court.
She explained: "Our male colleagues were shocked, and really surprised at how these young and inexperienced girls are coming to this special criminal court."
The judge went on to describe the dangers and difficulties of the role, with many criminal attacks in the region and a "very dangerous" daily commute. She also faced backlash from her colleagues due to her gender.
Even though "the equality of gender was granted in our constitution and our statutes… practically we were facing discrimination even in our offices, our own colleagues were not ready to accept us as their colleagues", she said.
She also discussed how her daily commute involved a four-hour trip in a bulletproof car which could come under attack by the Taliban at any point. Unfortunately, the Taliban discovered how to combat the cars and her commute subsequently involved dodging rocket propelled grenades.
She recalled that each morning when she was leaving her home she would say goodbye to her children, knowing that she might never be back.
The third judge concluded her speech by noting how quickly the progress she had seen and experienced had been undone: "In the last two decades, considerable progress was made, and a new constitution was adopted. Law schools were open, and a younger generation, male and female alike, was trained in a rule of law."
There were at least 750 female lawyers trained under this system, and 270 female judges. However, following the Taliban's new regime, this progress came to a halt, and male and female judges were thrown off the bench.
The judge explained that those who remain in Afghanistan have lost their livelihoods, and are suffering. A judge she once knew is now working as a farmer. "It's very tough for them," she said.
Yesterday's event was supported by the joint initiative of the Association of Judges of Ireland, The Bar of Ireland, the Law Society and Irish Rule of Law International – The Afghan Justice Appeal. Those looking to get involved with this cause, or to donate, can find more information on the Law Library website.