A&L Goodbody launches 2018 call for 'Bold Ideas' from university students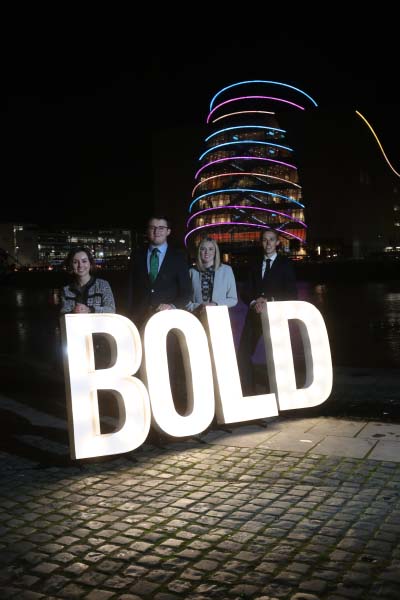 A&L Goodbody (ALG) has launched a call for entries to the 2018 edition of its "Bold Ideas" student competition, this year seeking ideas on how up-and-coming legal professionals can learn, work and collaborate using technology.
University students of all disciplines have been invited to think of a "Bold Idea" which could focus on how technology can develop legal skills, or enhance the way aspiring lawyers work, or make legal services more efficient and cost-effective.
John Whelan, head of A&L Goodbody's international technology practice, said: "Having been named Ireland's most innovative law firm 2018 by the FT, we know just how important it is to foster a culture of embracing technology for the benefit of our people and our clients.
"At ALG, we believe that the next generation of lawyers will play a key role in developing new ideas and technologies to enhance and transform the way we practice law. That is why this year we are asking students to think of a bold tech idea to help any aspiring legal professional enhance their approach to work, support collaboration or deliver exceptional client service."
Last year's winner, DCU student Conor Leavy, said: "The opportunity to enter the Bold Ideas is one that cannot be missed. The process of developing an innovative idea and competing with some of the best students from other universities were some of the highlights of my time at university. Entry into this competition should be a given for any career-wise student."
The first prize winner of the competition will receive €3,000 in cash and a summer internship at A&L Goodbody's head office in Dublin. The firm will also make a cash donation on the winner's behalf to a charity of their choice.
Judges for the 2018 Bold Ideas Student Innovation Award competition include Mr Whelan, as well as Sarah Lennon, legal counsel in Google, and Sean Judge, entrepreneur in residence at Accenture.
The closing date for entries is Monday 11 February 2019 and the winner will be announced at an awards ceremony on Thursday 7 March 2019. More information is available from the ALG website.