Prominent solicitor Niall Murphy hospitalised with coronavirus
---

---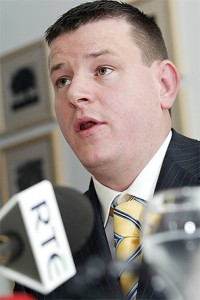 Prominent Belfast solicitor Niall Murphy has been hospitalised with coronavirus and remains in a critical but stable condition.
Mr Murphy, 43, is a partner at KRW LAW LLP and is known for his work as a criminal defence lawyer and in representing victims of state violence during the Troubles.
Partner Kevin Winters has encouraged Mr Murphy's colleagues and friends to send messages of support to him and his family by email to niallm@kevinrwinters.com today.
In a statement last night, Mr Winters said: "His condition remains critical but stable. We have invited people to send him and his family messages of support on Monday.
"All of us hope and pray that Niall's well-known battling qualities will see him through what is a very difficult time for him and his family.
"He would want everyone to keep themselves and their families and NHS staff safe by following advice to stay home and avoid the spread of this awful virus.
"In particular as a GAA mentor he would want young people to stay indoors and use social media to keep in touch with friends and family."