Lady Hale: Law struggles to see children as 'real people'
---

---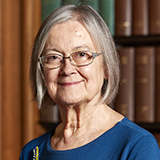 The law "still has trouble seeing children as real people", the president of the Supreme Court, Lady Hale, has said.
The senior judge reflected on the human rights of children and people with mental disabilities as she delivered the Society of Legal Scholars Centenary Lecture 2018 at the University of Essex.
Lady Hale delivered the speech last November to coincide with the 70th anniversary of the Universal Declaration on Human Rights (UDHR), but it has only just been published on the Supreme Court website.
Opening the speech, she said: "The Universal Declaration opens movingly in article 1: 'All human beings are born free and equal in dignity and rights. They are endowed with reason and conscience and should act towards one another in a spirit of brotherhood.'
"But do we really mean it? I well remember coming home from responding positively to a fine lecture by Albie Sachs on 'Do wicked people have human rights?' to find that our flat had been burgled. It is annoying but of course if the police had caught the burglar he or she would have been entitled to a fair trial and not to be seriously ill-treated in prison.
"Today I want to concentrate on the relationship between the first and second sentences of article 1. Do human beings who are not (at least yet) 'endowed with reason and conscience' also have human rights? Or are human rights confined to those who have the capacity to play a full part in civic society? I have in mind, of course, both children and people with mental disabilities."