UK among most egregious violaters of European employment rights charter
The UK is in significant violation of the provisions of a European employment charter as a result of offering an inadequate minimum wage and failing to provide workers with legal guarantees to ensure they are remunerated for overtime.
A report on the European Social Charter by the European Committee of Social Rights (ECSR) found that countries across Europe are struggling to comply with their international legal obligations concerning rights for workers.
The ECSR, part of the 47-nation Council of Europe, has published 580 conclusions assessing compliance with the European Social Charter on issues including the right to reasonable working hours, fair pay and protection against harassment in 35 countries and territories between 2013 and 2016.
In total, the committee adopted 276 conclusions of conformity (47.6 per cent) and 206 findings of violations (35.5 per cent). It was unable to assess the situation in 98 cases (16.9 per cent) due to lack of information.
The report identified numerous failings of the UK's employment regime.
In particular, the right of all workers to public holidays with pay is not guaranteed; there are inadequate safeguards to prevent workers from working for more than twelve consecutive days without a rest period; notice periods are not reasonable for employees with less than three years of service; workers exposed to residual occupational health risks are not entitled to appropriate compensatory measures; the scope for workers to defend their interests through lawful collective action is excessively circumscribed and the protection of workers against dismissal when taking industrial action is insufficient.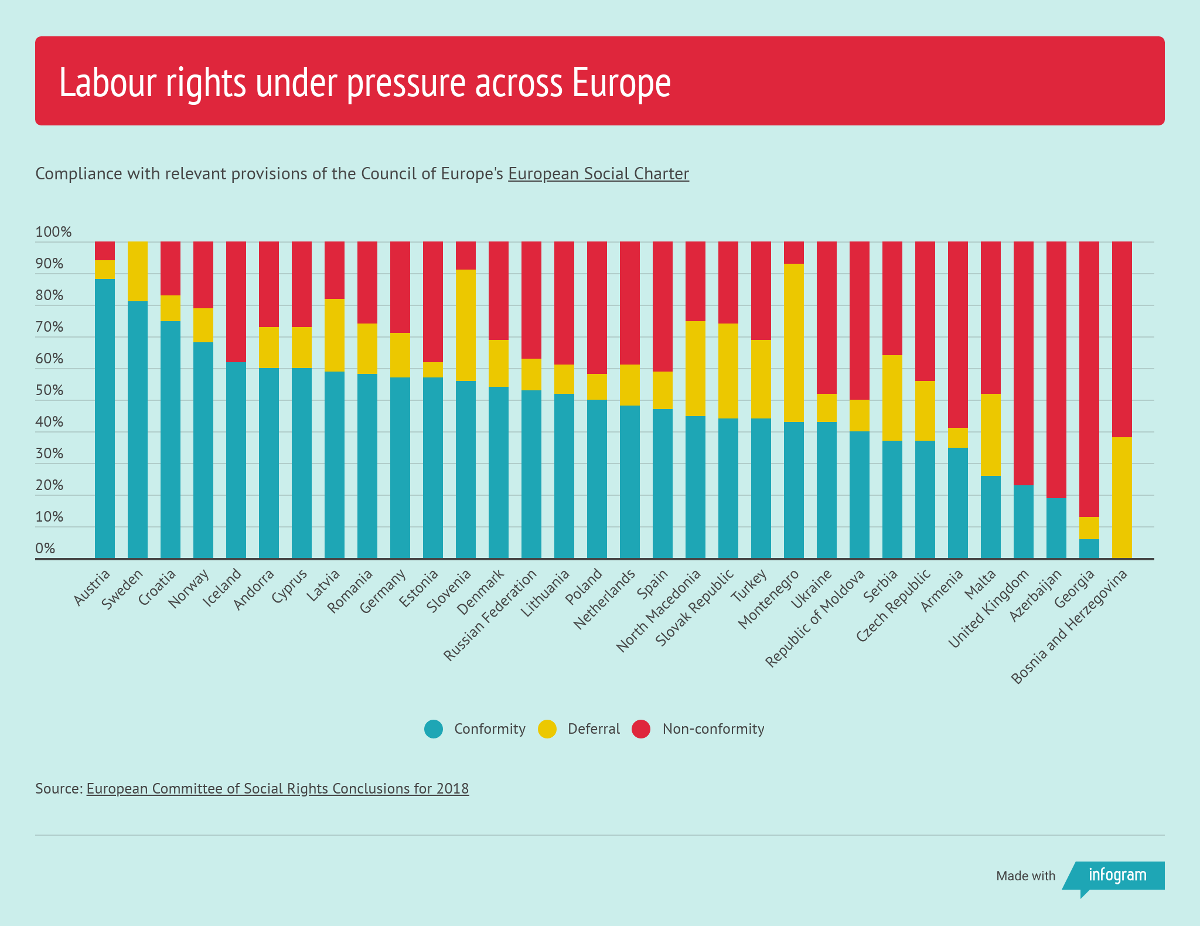 The highest proportion of violations concerned the right of all workers to a reasonable period of notice for termination of employment (95.8 per cent), the right of workers and employers to collective action, including the right to strike (73.3 per cent), and rules limiting the scope for deductions from wages (64.3 per cent).
The ECSR also found that most of the states concerned failed to ensure that the lowest net wages paid met the minimum threshold to give workers and their families a decent standard of living (defined as 60 per cent of the net average wage).
The highest proportion of conformity was in respect of the right to information and consultation (85.7 per cent), the right to promote joint consultation between workers and employers (84.4 per cent) and the right to quickly be informed, in writing, about the essential aspects of a contract or employment relationship (81.8 per cent).