Top judge calls for civil legal aid scheme to be 'deepened and broadened'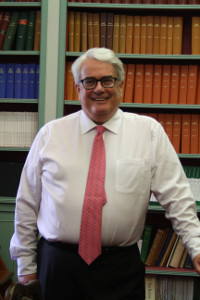 Civil legal aid should be widened to include areas of the law such as housing and homelessness, the Chief Justice of Ireland, Mr Frank Clarke, has said.
Ireland's top judge made the remarks at the launch of the Mercy Law Resource Centre's 2018 annual report, which was streamed live over the internet.
The law centre for people who are homeless or at risk of becoming homeless provided free legal advice and representation to 1,381 clients in 2018.
Speaking at the launch, Mr Frank Clarke said the law centre, which was founded ten years ago, provided a vital service in areas of the law outside the scope of the legal aid system.
He said there are people above the income threshold for civil legal aid who still "cannot afford to litigate", and there is a strong economic and moral argument that the scope of legal aid needs to be deepened and broadened.
Meanwhile, Rebecca Keatinge, managing solicitor at the MLRC, called on Housing Minister Eoghan Murphy to take immediate action to move homeless families out of commercial hotels and B&Bs into suitable emergency accommodation.
The law centre engaged with 452 homeless families in 2018, many of whom had been in commercial hotels for over 12 months and some as many as three years, with little prospect of moving on to long-term secure housing.
Ms Keatinge said: "These families spend long periods in commercial hotels and B&Bs, some upwards of two years. They face intolerable conditions: cramped and unsuitable hotel rooms for months on end, cut off from family, community and school supports. We have seen first-hand the damage done to thousands of children who are stuck in highly unsuitable accommodation.
"In Rebuilding Ireland, the Government committed to ceasing reliance on commercial hotels and B&Bs by mid-2017 – it is astounding and completely unacceptable that two years later, more than two thirds of homeless families in the Dublin region remain in hotels.
"MLRC calls on the Government to meaningfully address this over-reliance on hotels and B&Bs for example through the introduction of time limits on the period homeless families and vulnerable individuals can spend in emergency accommodation, as provided for in England and Scotland."