Supreme Court ruling to bring 'significant changes' to handling of contempt charges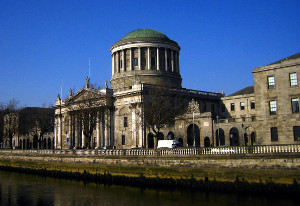 A landmark ruling from the Supreme Court is likely to bring significant changes to the way in which contempt of court charges are brought forward and dealt with in the Irish courts.
The court today handed down its judgment in a judicial review brought by Kevin Tracey against District Judge Aeneas McCarthy, arising from the way in which a contempt of court finding against him in the District Court was made.
In his judgment, Mr Justice Donal O'Donnell distinguished between the procedures required when disciplinary action is necessary (e.g. to allow proceedings to be conducted in an orderly fashion) and, on the other hand, procedures required when the court is exercising contempt of court jurisdiction, which may result in punishment in the form of imprisonment or a fine.
Where proceedings for contempt are considered necessary, a court may consider it appropriate to proceed with a separate hearing of contempt, and in this circumstance the person concerned should be warned and given the option of obtaining legal representation. The person must be given a fair opportunity of defending themselves since this is in nature a criminal offence.
Where the alleged contempt consists of allegations against a judge personally, it will be necessary to have another judge hear and determine the matter, Mr Justice O'Donnell ruled.
The ruling also noted that it would be highly desirable if the opportunity was taken to place the contempt jurisdiction of all courts on a sound statutory basis, consistent with the requirements of fairness and the constitutional obligation to administer justice.
The Irish Human Rights and Equality Commission, which joined the case as an amicus curiae, said the ruling was likely to bring significant changes to how the courts deal with contempt.
In its submissions, the Commission focused whether the individual's rights were breached in light of the Constitution of Ireland and the European Convention on Human Rights (ECHR).
The Commission's submissions concluded that the case was not in compliance with the Constitution and ECHR as, amongst other things, the individual was not provided with adequate time to consider and react appropriately either to defend himself, apologise or take any other action. The Supreme Court described the Commission's legal submissions as helpful.
Emily Logan, chief commissioner of the Irish Human Rights and Equality Commission, said: "The Commission's submissions to the Supreme Court focused on the distinction between courtroom management sanctions versus the more serious criminal sanction of contempt and welcomes today's ruling, which brings the necessary clarity.
"The Commission was invited by the Supreme Court to exercise its amicus curiae function in this case considering the significant human rights issues at question around the right to fair trial and the need to ensure clarity in the law in relation to contempt of court."