Richard Grogan: An appreciation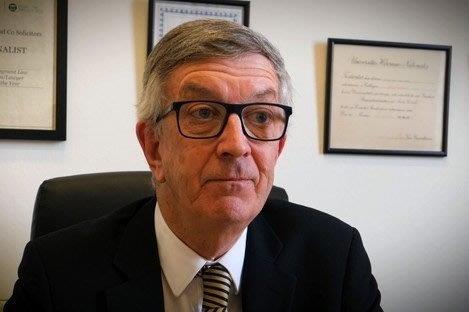 Ireland's legal profession was stunned and saddened yesterday to learn of the untimely death of solicitor Richard Grogan who passed away after a short illness at the age of 65.
After graduating from Blackrock College in 1975, Mr Grogan studied law at University College Dublin where he received an honours BCL.
The university's law society recently awarded Mr Grogan an honorary life membership. "Never in my wildest dreams did I ever even consider I might achieve this," Mr Grogan said upon receiving it.
Mr Grogan qualified as a solicitor in 1979 and thereafter as an associate of the Taxation Institute of Ireland. He later worked with PwC, O'Flynn Exhams, and PC Moore & Co.
In 2009, he established his award-winning firm Richard Grogan & Associates Solicitors specialising in personal injury and employment law. Just under a decade later, Richard Grogan & Associates was named Employment Law Firm of the Year at the Irish Law Awards in 2018.
Mr Grogan himself was named lawyer of the year at the 2022 Irish Law Awards less than a month ago. Jack McGrath, a client, was helped by Mr Grogan with two employment law matters and considered him "the best in his field". Paul Egan SC described him as a "driven, conscientious, honourable, moral person." "We need lawyers like Richard," Mr Egan continued, "they enrich our lives and our society".
He attained many other legal accomplishments, including being an established mediator and a founding member of the Society of Trust and Estate Practitioners in Ireland.
His service to the Employment and Equality Committee of the Law Society as well as his membership of the Dublin Solicitors Bar Association and the Employment Law Association of Ireland were examples of what the Law Society described as his "deep commitment to the profession."
Mr Grogan helped many beyond legal practice, too. He gave generously of his time to students and educational institutions. His knowledge and sense of humour were unparalleled. Lecturer in law at the University of Galway, Connie Healy, said that he jokingly "identified himself as 'the man with the hat'" at seminars for masters students.
He was a great supporter of organisations starting out in Ireland, including Irish Legal News and the University of Galway Law Review. ILN editor Connor Beaton wrote yesterday that the team is "grateful for all of his contributions and advice" while the University of Galway Law Review said in a statement that Mr Grogan will be "remembered for his outstanding expertise and humour".
Mr Grogan made regular radio and television appearances for a number of years too. More recently, he created accounts on TikTok and Instagram. His succinct and informative videos about employment law had a combined monthly reach of over one million people.
It was "incredible and kind of him to start doing that", law student Claire Holland remarked. A lot of people talk about improving access to the law. Mr Grogan did something meaningful about it. Describing him as "a servant of the people", Tánaiste Leo Varadkar tweeted that "[w]e all used to watch them [the videos] in the Department [of Enterprise, Trade and Employment]".
In an interview with the Public Sector Marketing Institute, Mr Grogan said that he "knew nothing about Instagram" when he took over his firm's account on the platform. "We'll do it the Richard Grogan way" he said to himself at the time. "And it seems that it took off", he concluded.
He began posting similar videos on TikTok in December 2021, quickly reaching over 100,000 followers on the platform.
In the same interview he said "that's an awful lot of people following this idiot talking about employment law". "I don't sing and I don't dance", he continued, expressing surprise at his success.
Mr McGrath said that Mr Grogan "bore his illness with great courage in continuing his TikToks to help others when he had so much on his own plate".
He was naturally considerate, a quality that was emphasised when he told the Public Sector Marketing Institute that "we kind of work on the basis that there is no such thing as a stupid question, just a stupid answer". "We are there to try and help people", he stressed.
COO at Peninsula Ireland, Moira Grassick, summed up the legal fraternity's sentiment towards Richard Grogan when she said: "He was an inspirational figure, and his knowledge, wisdom, insight, and humour will never be forgotten."