Public's views now being sought on civil legal aid reform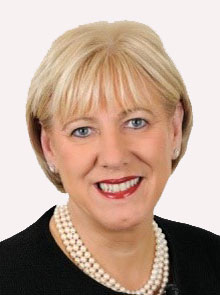 Reform of the civil legal aid scheme has moved into its second phase with the launch of a public consultation.
The public consultation launched yesterday is in addition to the stakeholder consultation which launched in November and remains open until February. A further targeted consultation for hard-to-reach groups will be launched at a later date.
Justice minister Heather Humphreys said: "Consulting widely with the people who will be affected by our policy decisions, and who know the lived experience of interacting with schemes like the civil legal aid scheme, is really important to us as legislators and policy makers.
"Allowing people to share their experience and have their say improves transparency and is more likely to ensure that any recommendations for review of the scheme will be cognisant of the reality on the ground and better attuned to the needs of 21st century Ireland.
"I would encourage people to respond to the survey and take this opportunity to help shape the review."
An independent review group chaired by former chief justice Frank Clarke is responsible for the oversight of the consultation process.
The Group's terms of reference require them to examine all aspects of the current operation of the scheme and make recommendations regarding the future legal assistance needs of those who cannot afford to access legal advice and representation privately. The responses to this part of the consultation process will inform that work.
Mr Clarke said: "The aim of this review is to ensure that we have a fair and robust civil legal aid scheme and as such we will be considering a number of issues, including eligibility for civil legal aid.
"This public consultation is a valuable opportunity to learn more about the lived experience of those who have interacted with the scheme.
"However, you do not need to have engaged with the scheme directly, or even have dealt with a civil legal issue, to contribute.
"Ensuring access to justice for all is a lynchpin of any democratic society — and a key professional interest of mine. I would like to hear from anyone who wishes to share their views on how we can improve our efforts to achieve this."
Ms Humphreys added: "The group is here to listen and wants to hear from a diverse range of voices on this issue.
"To this end, the review group will, in the coming months, begin a third consultation specifically designed to enable hard-to-reach groups to contribute to the discussion. I look forward to hearing what each group has to say."
The public consultation will run from 8 December 2022 until 3 February 2023. Full details on the consultation and the link to access the survey can be found on gov.ie.