President Higgins: Barriers to access to justice 'damaging very fabric of Irish society'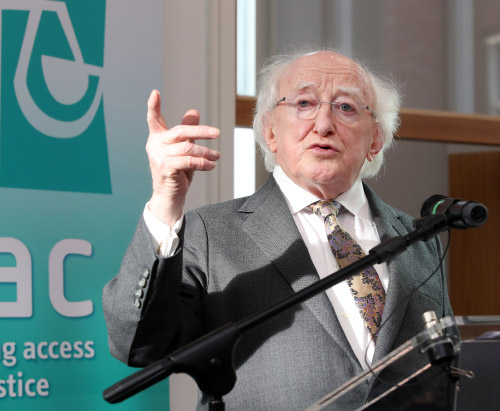 President Michael D. Higgins yesterday warned that barriers to access to justice in Ireland are damaging "the very fabric of our society, entrenching and exacerbating inequality".
The president mounted a strong defence of legal aid in his speech at the officially opening of legal rights group FLAC's new Dublin headquarters.
He said: "We know that a right to justice is fundamental to human rights protection, a primary element of an individual's entitlement as an equal citizen of any state.
"It is simply not acceptable, in a state that claims to be a democracy, that the most vulnerable section of our society is unable to access our legal system or is prevented from doing so in a timely manner. That is a situation which damages the very fabric of our society, entrenching and exacerbating inequality.
"At the very roots of democracy lies a respect for all citizens and a refusal to foster a culture of privilege and advantage for those who can afford it. If we are to achieve a Republic in its fullest sense, both institutional and experiential, it must be founded on a profound spirit of generous humanity and a necessary inclusiveness."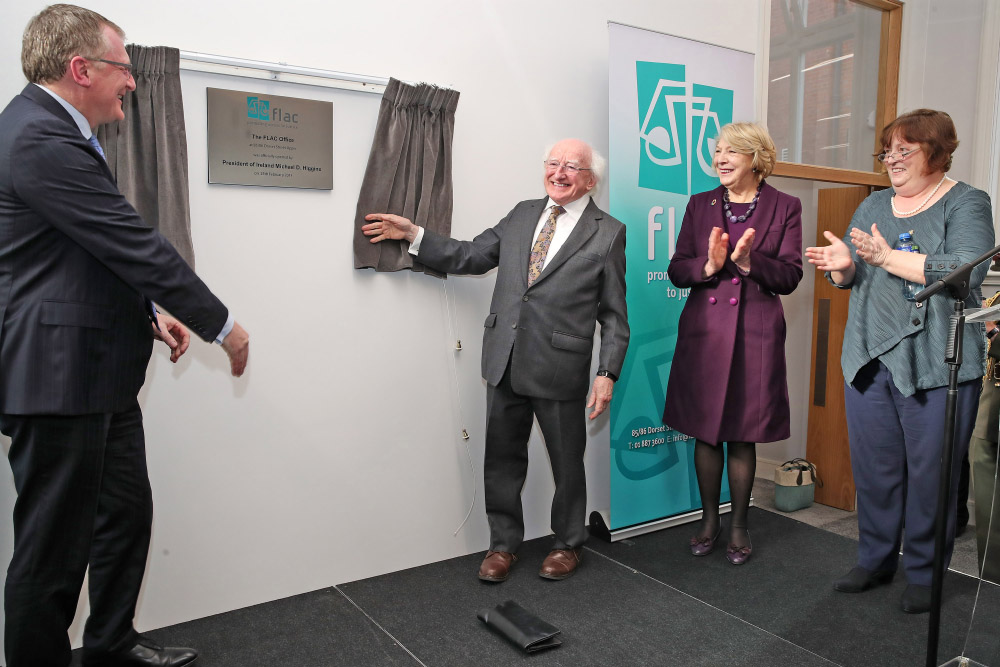 The opening of FLAC's new head office at Dorset Street Upper in Dublin 1 coincides with the organisation's 50th anniversary, which it will mark throughout 2019.
FLAC was established in Dublin in 1969 by law students David Byrne, Denis McCullough, Vivian Lavan and Ian Candy, who were looking to use their legal knowledge to provide advice and information to those who could not afford the fees involved.
Peter Ward SC, chairperson of FLAC, said: "We are particularly pleased that President Michael D Higgins has kindly agreed to open our new offices. President Higgins has made inclusion and the achievement of equality one of the core tenets of his Presidency. These are values that FLAC shares and have been at the heart of our 50 years of championing legal aid and are foundational in our ongoing work to achieve equal access to justice.
"The move to the new FLAC building, situated on the site of the birthplace of Irish playwright Seán O'Casey, has been facilitated by the generous support of Atlantic Philanthropies. It provides an opportunity for FLAC to be a centre of legal innovation and creativity, to celebrate FLAC's achievements, history and vision for the future."
Eilis Barry, chief executive of FLAC, told the opening: "We are proud of the work that FLAC and its squad of volunteers have done for the last 50 years in seeking to establish a comprehensive system of civil legal aid. However, our staff and volunteers cannot begin to meet the current legal need we encounter on a daily basis.
"The scale of unmet legal need we encounter shows that we need a better and more comprehensive system of legal aid, with shorter waiting times, improvements to the means test and more realistic allowances. We also need to fill the current gaps in the system: at the moment there is no legal aid for employment/equality claims before the Workplace Relations Commission, no matter how complex the issue is or how vulnerable the claimant may be. We also have been advocating to ensure that legal aid is available for people facing evictions from their family homes."