Portrait of Ms Justice Mella Carroll unveiled at DCU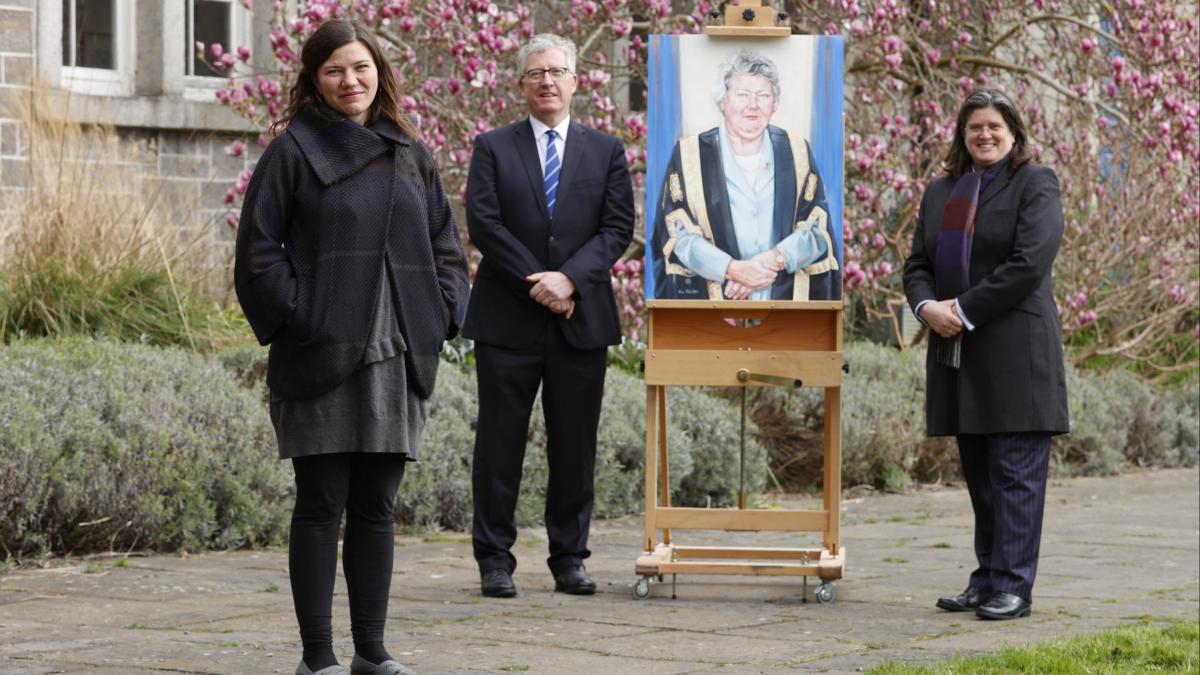 A portrait of the late Ms Justice Mella Carroll, the first woman to serve as a High Court judge, has been unveiled by Dublin City University (DCU).
Ms Justice Carroll served as the university's chancellor from 2001 and as chair of its governing authority before her untimely passing in 2006.
Born in Dublin, she obtained a BA (French and German) at University College Dublin and qualified as a barrister at the King's Inns in 1957, where she was awarded the Brooke scholarship after coming first in her class.
In 1976 she became only the second woman in Ireland to be appointed as senior counsel and was the first woman to chair the Bar Council in 1979. She was the first woman appointed to the High Court bench in 1980.
She served as a judge for almost a quarter of a century, during which time she presided over a wide and varied range of hugely important cases in the High Court, earning enormous respect for the quality and balance of her judgements.
Throughout a distinguished career, Ms Justice Carroll chaired a series of high-profile commissions in Ireland, including the first Legal Aid Board.
From 1991 to 1993, she chaired the second Commission on the Status of Women, and helped produce its 1993 report which set out the demands of Irish women for equality and addressed issues including entrepreneurship, poverty, childcare, health, and the exploitation and representation of women; many of the Commission's recommendations have since been adopted.
Her report on the Commission on Nursing (1997-98) marked the most significant milestone in the history of nursing and midwifery in Ireland, by highlighting the independence of the nursing profession and recommending that nursing education be undertaken within the university sector.
Carroll also served as vice-president of the Administrative Tribunal of the International Labour Organisation in Geneva (1987-2002) and president of the International Association of Women Judges.
Professor Daire Keogh, president of DCU, said: "Vera Klute's wonderful portrait is a fitting tribute to Ms Justice Mella Carroll and her many accomplishments, both as DCU Chancellor and during an extraordinary career that led to her appointment in 1980 as the first female judge of the High Court where she served for 24 years.
"A trailblazer for women in law and society, there is a great affection for Mella at DCU. We are proud, through this commission, and those recently unveiled in the Accenture Women on Walls initiative at DCU, to showcase role models to our students."
Maura McNally SC, chair of The Bar of Ireland, said: "Mella Carroll's impact continues to be felt; and it is an honour not only to follow in her footsteps as Chair of the Bar of Ireland, but also to have the opportunity to reflect on her contribution. And that is the value of such portraiture as this.

"As a pioneer, trailblazer and the epitome of female leadership, Mella's example also forces us to ask are we doing enough, what more could be done to achieve greater equality and parity in society and in the legal profession. Called to the Inner Bar in 1977, as the first female Senior Counsel, today some 44 years later, only 18% of Senior Counsel are female. There is more work to be done."
She added: "DCU is highly commended for marking her contribution in such a visible and public way, and I hope that students for years ahead will reflect on Mella's example through the work of artist Vera Klute.
"Mella continues to be a role model, and by definition a series of 'firsts' characterise her career and contribution: First Senior Counsel, First Female High Court Judge, First Female Chair of the Bar. Her work at the Law Library, on the Bench and in a wide number of fora make her a defining and most worthy role model to be honoured in such wonderful portraiture."
Commissioned artist Vera Klute said: "I was absolutely delighted to be given the chance to portray Mella Carroll in her role as Chancellor of DCU. Though her professional achievements speak for themselves, I have great admiration for her on a personal level as she broke into such a male dominated profession and made decisions with great integrity.
"While a posthumous portrait has to be done from photographs, I like to use several images for reference and combine the unique characteristics of the subject. The aim is to create a new image that is vibrant and alive, going beyond the scope of the original photographs.
"Even with a formal portrait like this, the personality of the sitter has to take centre stage. With this portrait I wanted to embrace her femininity and portray her as an intelligent, decisive and witty character."