O'Malley review backs anonymity for more defendants and greater support for complainants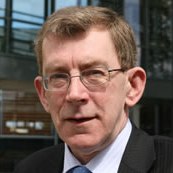 The long-awaited review of protections for vulnerable witnesses in the investigation and prosecution of sexual offences has backed proposals for anonymity to be extended to defendants in all sexual assault trials, as well as greater supports for complainants.
The review, chaired by Tom O'Malley SC and announced in the wake of the high-profile Belfast rugby rape trial, was originally meant to be completed by the end of 2018. The final 141-page report has been published today.
It was commissioned by the government following criticism over aspects of the nine-week Belfast Crown Court trial of Ireland and Ulster rugby players Paddy Jackson and Stuart Olding, who were found not guilty of raping a woman. A separate review was commissioned in Northern Ireland and completed nearly a year-and-a-half ago.
Justice Minister Helen McEntee announced this morning that she will prioritise the development of an implementation plan in conjunction with NGOs and other stakeholders, to be brought to the cabinet by mid-October.
Anonymity of defendants
Among the most significant recommendations of Mr O'Malley's report is that the right to anonymity which currently applies to almost all defendants accused of rape should be extended to include defendants accused of all sexual assault offences.
"The major justification for according anonymity to accused persons today is that even being prosecuted for a sex offence, let alone being convicted of one, carries a very heavy stigma," the report states. "Moreover, it is a social stigma that an acquittal may do little to mitigate or remove."
It also recommends that express statutory provisions should be made for the exclusion of the public from the trials of sexual assault offences that are not covered by existing legislation, including from the announcement of the verdict and any sentence.
Legal representation for complainants
The review rejected suggestions that complainants should be entitled to independent legal representation throughout the entire trial process, but did endorse greater access to legal advice and representation in particular circumstances.
Since 2001, complainants in rape and aggravated sexual offence trials have been entitled to separate legal representation in respect of any application that is made to question them about their sexual history. The review recommends extending this right to all trials for sexual assault offences.
It also recommends that defence applications to question a complainant about his or her sexual experience should normally have to be submitted in a preliminary hearing, as problems arise from the fact that such applications are "often not made until the trial is in progress or immediately before it begins".
Disclosure and privacy
On the disclosure of digital evidence from complainant's mobile phones or social media profiles, which the report notes has become a prominent issue in England and Wales, the review warns that this "cannot be treated as an optional extra".
"It is crucially important that the disclosure obligations imposed on the prosecution should be observed and implemented to a consistent standard throughout the State", the report states, while encouraging gardaí to "continue to act with sensitivity and restraint when collecting data of this kind, particularly from victims".
It adds: "There have been several media reports of cases in England and Wales where victims were abruptly told that unless they handed over their mobile phones and other devices, the case would not proceed. The [working group] understands that in Ireland these matters are handled more sensitively, and we strongly urge that this should continue."