NUI Galway law students awarded DLA Piper scholarship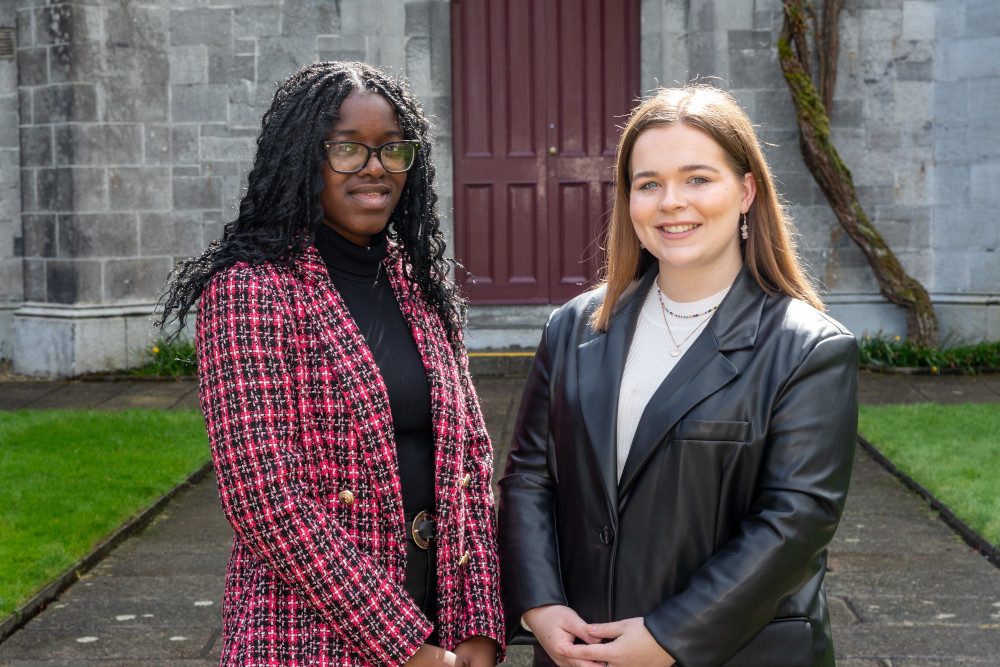 Two law students from Sligo have been awarded scholarships created in partnership between global law firm DLA Piper and NUI Galway School of Law.
Annie Forde, from Enniscrone, Co Sligo, and Joan Ighile, from Sligo Town, have been named the Terence O'Malley DLA Piper Scholars for the academic year 2021/2022. Both are undertaking the undergraduate degree Law (BCL), Criminology and Criminal Justice, at NUI Galway's School of Law.
The Terence O'Malley DLA Piper Scholarship is named after the chairman emeritus of DLA Piper, who has family roots in the west of Ireland. It provides funding and support to enable and empower successful students to study a law degree at NUI Galway and is awarded in-part on academic merit.
Maura Dineen, partner at DLA Piper, said: "We are proud to partner with NUI Galway's School of Law to support deserving students like Annie and Joan, as they pursue their studies in law.
"It was a pleasure to visit the campus, talk to the students about their experience and hear the positive impact the Terence O'Malley DLA Piper scholarship has had on their studies so far. We wish all of the students the very best in their studies and look forward to seeing what innovative thinking they contribute to the industry in the future."
Professor Martin Hogg, head of the School of Law at NUI Galway, added: "We are delighted to have the continued support by DLA Piper of two more students under this scholarship programme.
"The educational opportunities which these scholarships afford are highly valued by the School and by the scholars and we're very grateful to DLA Piper for this investment in two lawyers of the future."
The scholarship supports scholars throughout their four-year law degree to the value of €2,500 annually (total value of €10,000 per scholar). It is open to first year students who are enrolled in one of NUI Galway's five full law degrees and have a home address in the west of Ireland (to include all counties in Connacht plus counties Donegal and Clare).
Ms Forde said: "Studying law at NUI Galway has been a highly enjoyable experience and I am grateful that DLA Piper are able to support me in my academic endeavours. This scholarship has had a positive impact on my life and I hope that in my future legal career that I can make a positive change in people's lives."
Ms Ighile said: "This scholarship has given me the opportunity to thoroughly enjoy my study of Law at NUI Galway with lessened financial stress. It has been a great support to me, and I'd like to thank DLA Piper for their great generosity in continuing to support Irish students pursuing a career in Law."