Nasc legal service supported 1,318 people last year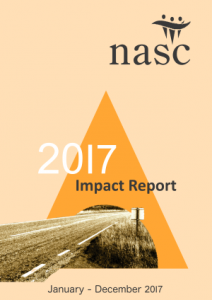 Nasc, the Irish Immigrant Support Centre, provided legal support to 1,318 people in 2017, according to its latest impact report.
Of the 1,318, there were 555 new clients, up 42 per cent on the previous year.
Nasc's legal service made 2,452 interventions (actions/visits per client) and successfully closed 164 cases.
Family reunification continued to be a major reason (347 consultations) for clients visiting the clinics.
The legal service enjoyed a "very positive year" in 2017, having received additional funding allowing it to "significantly increase its capacity" and reverse cuts made in 2016.
Funding for a second legal service project called the Nasc Immigrant Integration Initiative allowed Nasc to recruit a third legal staff member, Mark J. Durning, who joined Fiona Hurley and Majo Rivas as part of Nasc's legal clinic staff team in December 2017.
Nasc also gave special thanks in the report to interns Maura Kavanagh, David Rodgers, Noemi Magugliani, Emily Cunniffe, Natalie McDonald and Deirdre O'Grady, as well as volunteers Hajer Al Manea and Juliana Fayad.