Moloney Solicitors launches proceedings over defective intraocular lenses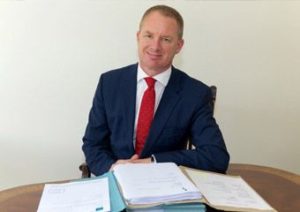 Co Kildare firm Moloney Solicitors has instituted proceedings against a German company on behalf of a number of clients who experienced a worsening of their vision following the insertion of intraocular lenses.
The lenses, which were implanted in patients' eyes, were subject to a recall by Oculentis GmbH after reports of symptoms including difficulty with bright lights, backlighting, silhouettes and lower light conditions.
Patients also reported opacification and some had to undergo ocular lens replacement procedures.
Managing partner Liam Moloney is leading the litigation in which allegations of negligence, breach of duty and breach of contract have been made against the manufacturers and suppliers of the affected lenses.
"We have launched legal proceedings for many clients who unfortunately have been affected by these defective lenses," Mr Moloney said.
"Some of our clients typically experienced a deterioration of their visual acuity at around 36 months post-surgery and calcification of the lens surface have also been observed."
He added: "I recommend that any people have that received these lenses and may be affected by a reduced visual acuity should immediately contact their eye surgeon for advice. The eye surgeon will be able to advise on the best course of action necessary.
"It is also important to consider the statute of limitations because in these cases the limitation period is three years from the date of receiving medical advice that the lenses were defective. In fact, the period of time could be earlier, so it is also important for any person affected to take immediate legal advice."