UK: Michael Gove to be questioned by Lords constitution committee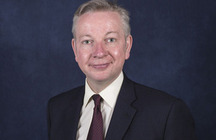 Michael Gove will be questioned by peers tomorrow as part of an inquiry into the future governance of the UK, exploring topics such as intergovernmental relations, promoting the Union across Government and funding arrangements.
The Chancellor of the Duchy of Lancaster and minister for the Cabinet Office will be joined by Sue Gray, second permanent secretary at the Cabinet Office, in giving evidence to the House of Lords constitution committee.
The questions the committee is likely to ask Mr Gove and Ms Gray are said to include:
What is the UK Government's vision for the Union in 2021, and its strategy for strengthening it?

Once finalised, will the proposed reforms to intergovernmental structures help build trust and cooperation between the UK Government and the devolved administrations?

Does the Government agree that the Sewel Convention needs to be strengthened?

Will direct expenditure by the UK Government in devolved areas, including through the Shared Prosperity Fund and the levelling up agenda, increase support for the Union?

Following the repeal of EVEL, is it important for England to have a distinct voice within the UK's constitutional arrangements?
The session will take place virtually tomorrow, Tuesday 20 July, at 2pm and can be followed on Parliament TV.