Mediators' Institute appoints first-ever CEO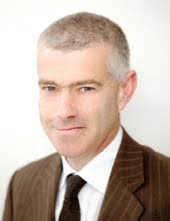 The Mediators' Institute of Ireland (MII) has announced the appointment of Stiofán Nutty as its first-ever chief executive officer.
Mr Nutty, an MII-accredited mediator who previously served on the MII Council in 2013/14 and has worked as a PR consultant for the body, will take up the role from 27 June 2022.
He will support the Council in the implementation of its vision and strategy for the MII and be responsible for the operational management of the Institute.
Ber Barry-Murray, president of the MII, said Mr Nutty "brings a wealth of experience to this role", noting his work as a PR consultant, special advisor to several government ministers and his appointment as the Green Party's first general secretary in 2003.
Mr Barry-Murray added: "On behalf of members, Council and myself, I look forward to working with Stiofán in his new role."