McKees awarded bronze medal for business sustainability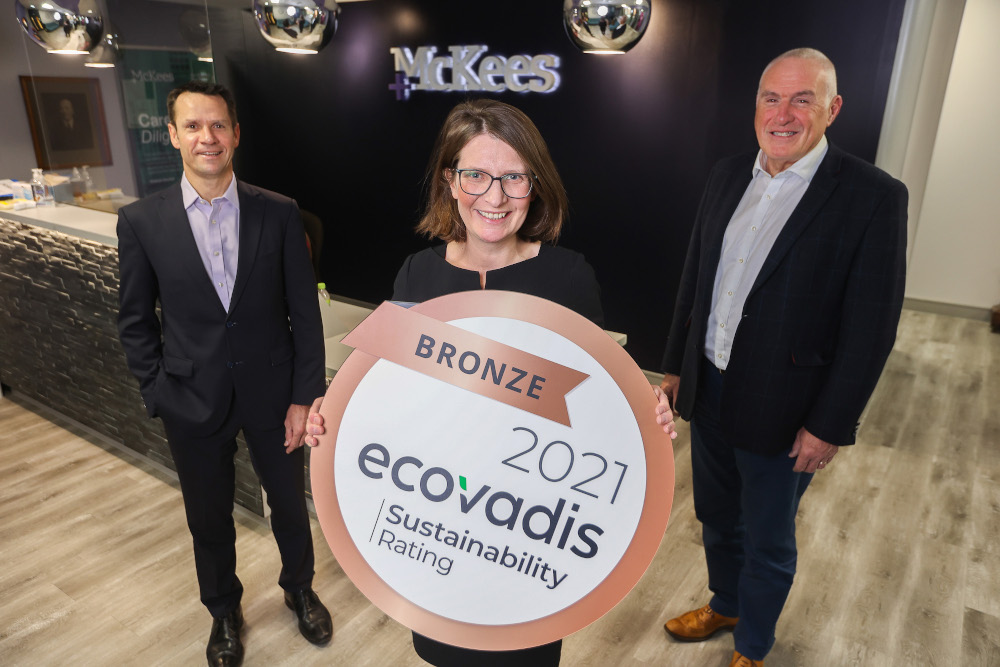 Belfast-based McKees has been awarded a bronze medal by EcoVadis in recognition of its business sustainability rating, becoming the only law firm in Ireland to hold the accreditation.
EcoVadis is a worldwide provider of business sustainability ratings, intelligence and collaborative performance improvement tools for global supply chains. Its actionable sustainability scorecards provide detailed insight into environmental, social and ethical risks across 200 purchasing categories and 160 countries.
McKees is in the top 24 per cent of companies rated by EcoVadis in the legal and accounting activities industry and in the top nine per cent of companies rated in Ethics.
Managing partner Chris Ross said: "We are proud to have been awarded a bronze medal by EcoVadis in recognition of the work we have carried out to reduce risk, drive performance and improve environmental and social outcomes. As a firm, sustainability and playing our role in helping the environment has been central to our ethos for many years.
"The EcoVadis methodology framework assesses companies' policies and actions as well as their published reporting related to the environment, labour and human rights, ethics and sustainable procurement. This accreditation demonstrates our commitment to act responsibly by integrating social and environmental concerns into our business operations."
He added: "McKees now has a corrective action plan in place which will help support our ongoing performance improvement. We are committed to building on our systems in place and on improving our sustainability management system in the months and years ahead.
"And we would encourage other businesses in Northern Ireland to have a look at their own sustainability plans and procedures to see how they too can improve their own environmental and social performance."