UK: Lord Sales suggests new laws to force consideration of climate issues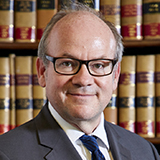 A UK Supreme Court justice has suggested laws could be introduced forcing companies to appoint a "designated board member for environmental impact issues" to make directors pay more attention to climate issues.
Lord Sales made the comments in a speech entitled "Directors' duties and climate change: Keeping pace with environmental challenges", delivered to the Anglo-Australasian Law Society in Sydney.
The judge said: "It is, I think, worth considering the introduction of a legislative or, as a preliminary step, regulatory best practice requirement, to appoint a designated board member for environmental impact issues.
"There is a clear case for [some] company laws to be modified, by legislation, to provide a greater impetus to boards and individual directors to accord greater attention and weight to climate issues than has until now been considered appropriate.
"That said, even as things stand, there is much force in the view that directors may and, increasingly, must take into account and accord significant weight to climate change in their decision-making.
"This is not least because a failure to act sustainably is more and more likely to have adverse financial impacts on companies who are, or are perceived to be, behind the curve on environmental issues."