Lawyers urged to consider settling 320 personal injury cases 'in limbo'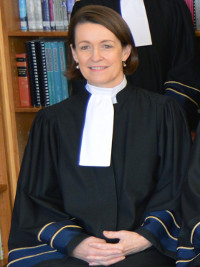 Lawyers have been urged by Ms Justice Mary Irvine, the new president of the High Court, to consider settling 320 personal injury cases which have been left "in limbo" since the start of the COVID-19 pandemic.
In a statement this morning, Ms Justice Irvine highlighted statistics showing that 97 per cent of all personal injury claims in the High Court are settled and only 11 per cent of those that reach the door of the court proceed to a contested hearing.
"Regrettably, however, a substantial number of claims only settle on the day they are listed for hearing," she said. "In practical terms this means that if cases cannot be listed for hearing, as is currently the case because of COVID-19, they will neither be fought nor settled but will remain in limbo."
Ms Justice Irvine said she would make a further announcement within a week on "some resumption" of hearings of personal injury claims, but urged lawyers to consider settling the 320 claims which have been postponed since 18 March 2020.
She called on those involved in those claims, and those which would have been listed for hearing before the end of July, "to negotiate with each other in the immediate future with a view to bringing about the result that would have been achieved if those cases could have been listed for hearing".
The judge stressed that she was "not asking any defendant to settle a claim in respect of which they consider they have no liability or where they consider the sum claimed to be excessive or even possibly fraudulent" nor to "pay anything more than they would have paid to settle the claim on the date it was due to be heard".
"All I am asking is that the parties do what they would have done over the past three months and over the next five weeks, had the court been able to list these claims for hearing in the normal way," she said.
"And, if the parties embark upon such negotiations in the same way as they would have done had the cases been listed for hearing, justice will be the winner with hopefully 89 per cent or thereabouts of those cases being settled.
"And, if that percentage of claims, or something close to it is achieved, it will speak volumes to the sense of justice of those stakeholders who might possibly stand to benefit from a prolonged adjournment of such claims."
The list of cases adjourned since 18 March will be listed in a series of remote call overs in the last week of July to see what progress has been made and to give directions as to the hearing of such claims as have not settled, she added.