Lawyers for Jim Mansfield jnr issue defamation proceedings against RTÉ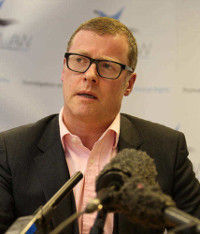 Lawyers for Irish businessman Jim Mansfield jnr have issued defamation proceedings against RTÉ in connection with an episode of Prime Time.
Belfast solicitor Kevin Winters, partner at KRW Law, said the decision to litigate was "emboldened" by a prosecution recently brought against Mr Mansfield.
He is awaiting trial on a charge of conspiring with one or more persons to falsely imprison a man, and a charge of attempting to pervert the course of justice, The Irish Times reports.
The allegedly defamatory comments about Mr Mansfield formed part of a Prime Time broadcast about the sentencing of former INLA man Dessie O'Hare earlier this year.
Lawyers for Mr Mansfield have an ongoing application to the Director of Public Prosecutions (DPP) for the release of information about Mr O'Hare's trial.
Mr Winters said: "We want to expedite all proceedings and now call on the DPP to respond immediately."