Lawyers ask Court of Appeal for guidance on 'complex' money laundering legislation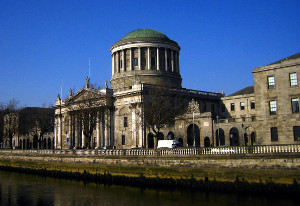 Lawyers for a man found guilty of money laundering have asked the Court of Appeal to set guidance on how the "complex legislation" should be explained to juries.
Henry Alinta, 44, had pleaded not guilty to money laundering contrary to section 7(1) of the Criminal Justice (Money Laundering and Terrorism Financing) Act 2010.
He was found guilty by a jury at Trim Circuit Criminal Court after 27 minutes of deliberations and sentenced to four years imprisonment with the final 18 months suspended by Judge Michael O'Shea. He was released from serving his sentence early, the Court of Appeal heard.
Alinta moved to appeal his conviction on Friday on grounds that the trial judge "confused" the jury on the presumption of innocence and the onus of proof.
His barrister, Pauline Walley SC, further submitted that the verdict of the jury was perverse given the "complex nature of the legislation" under which he was charged.
Ms Walley said the trial judge, in the first part of his instructions to the jury, repeatedly referred to the burden of proof never shifting from the prosecution in a criminal trial. At a later stage in his charge to the jury, the trial judge dealt with the presumptions under the legislation, which do shift the burden to a certain extent to the accused.
She said the trial judge didn't "bridge" the distinction sufficiently and "jumped around between stage one" and the issue of knowledge, belief or recklessness.
Everybody found the legislation "very difficult", she argued, as it was "complex" and the language was "very dense". However, the jury took just 27 minutes to convict.
It was obvious the judge himself found the legislation "difficult" and only lawyers had the legislation in front of them, Ms Walley said.
It was so "widely drafted", she asked the Court of Appeal to give guidance to judges for future cases "because these presumptions are arising more" often.
Mr Justice John Edwards remarked that there had been several attempts to give guidance on this issue previously. He said there was anecdotal evidence that judges and juries continue to have difficulties.
Ms Walley said the recent Supreme Court decision in Forsey was significant and important.
She said the presumptions, of which there were many, allowed the prosecution to "fill in the gaps" in relation to intent.
Mr Justice Edwards, who sat with Mr Justice Patrick McCarthy and Ms Justice Isobel Kennedy, said the court would reserve its judgment.
Ruaidhrí Giblin, Ireland International News Agency Ltd.