Lawyer adds to doubts over perjury law impact on false claims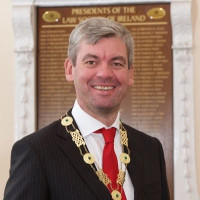 A leading lawyer has raised doubts over whether a bill aimed at creating a statutory offence of perjury is likely to deter false insurance claims and reduce premiums, The Times reports.
Senator Pádraig Ó Céidigh introduced the Perjury and Related Offences Bill 2018 as a private members' bill last month following over a year of campaigning by the Irish Small and Medium Enterprises Association (ISME).
However, as Irish Legal News reported last summer, some lawyers believe the potential impact of perjury legislation on insurance premiums has been overstated.
Karen Kearney, partner in the medical negligence department at Cantillons, told Irish Legal News that fraudulent claims are "very much in the minority" and she was "certainly not optimistic that [a new law] will result in lower insurance costs".
Now Stuart Gilhooly, former president of the Law Society of Ireland, has told RTÉ's Today with Sean O'Rourke that he welcomed the bill, but did not believe it would help deal with fraudulent claims.
Mr Gilhooly said: "It won't add anything to the prosecution of false personal injury claims."