Law Society pays tribute to retiring director general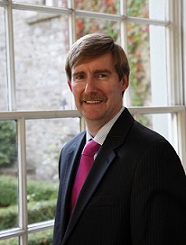 The president of the Law Society of Ireland has led tributes to its outgoing director general Ken Murphy on his announced retirement.
Mr Murphy will retire in March 2021 after reaching his 65th birthday, having completed 26 years as director general, as Irish Legal News reported on Friday.
Michele O'Boyle, president of the Law Society, said: "Ken has, as Director General, led with distinction for 26 years. In that time, he has represented the solicitors' profession with integrity, dedication, wisdom and tremendous skill. I am certain that Ken's contribution will leave a lasting legacy.
"A gifted communicator, Ken always had the profession's obligations to the public interest at the forefront of his mind."
Since Mr Murphy took up office in 1995, the solicitors' profession has gone through a dramatic expansion, increasing from around 5,000 solicitors in 1995 to over 22,000 today.
"I wish Ken, his wife Yvonne and their children Gavin, Charlotte and Rebecca continued good health and an abundance of happiness in this exciting new chapter in their lives," Ms O'Boyle said.