Irish citizen wanted for charges against ex-partner loses 'slopping out' extradition appeal in Scotland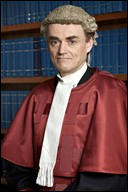 Scotland's High Court of Justiciary has refused an appeal against extradition by an Irish citizen who claimed he was at risk of having to "slop out" the chamber pot of his prison cell if he were returned to Ireland to serve a custodial sentence.
It was argued by Kevin McGourty that there was a real risk that he would be subject to prison conditions that would amount to inhuman and degrading treatment, thus breaching his rights under article 3 of the ECHR. He faced six charges related to conduct towards a former partner, including criminal damage to property and breach of a safety order under domestic violence legislation.
The appeal was heard by Lord Malcolm, Lord Woolman, and Lord Doherty. The appellant was represented by Wojciech Jajdelski, advocate; the Lord Advocate, on behalf of the Republic of Ireland, was represented by Stephen O'Rourke QC.
Risk of overcrowding
A European Arrest Warrant for the arrest of the appellant was issued in July 2019 by the High Court of Ireland. Following his arrest in 2020, the appellant was brought before the sheriff of Lothian and Borders to answer the EAW. On 1 July 2021, the sheriff expressed the view that there was a strong presumption of a breach of article 3 if a prisoner had less than 3 square metres of personal space and sought assurances from the Irish authorities on this matter.
In support of his appeal, the appellant relied on a 2020 report by a committee of the Council of Europe in which it was stated that, while it was believed that the Irish authorities would remove slopping out from the prison system entirely, it remained an ongoing practice in some facilities. Further, a large percentage of the prison population had to use the toilet in the presence of other prisoners, as not all toilets in multiple occupancy cells were fully partitioned up to the ceiling.
Having obtained a letter from a senior Irish prosecutor stating that the appellant would not be placed in conditions where he would have to slop out, the sheriff ordered his extradition in September 2021. No assurances were obtained regarding toilet privacy in shared cells, with the sheriff rejecting a devolution minute tendered by the appellant contending that it was incompatible with his article 3 rights to extradite him without such an assurance.
It was submitted for the appellant that the sheriff had erred in law in obtaining the assurances in the way he had. Since before he received the assurances the sheriff found himself in the position that the information before him was insufficient to allow him to decide whether the appellant should be extradited, he was obliged to make a request that the necessary supplementary information be supplied to him as a matter of urgency.
In the appellant's second ground of appeal, while he accepted that inadequate partitioning of toilet facilities could not on its own constitute a breach of article 3, there was information before the sheriff that there was a risk of overcrowding. It was therefore necessary for the sheriff to seek assurances that he would not be held in a cell with other prisoners where he would have less than 4 square metres of personal space and there was not partitioning of toilet facilities to ceiling height.
Assurance not required
Delivering the opinion of the court, Lord Doherty said of the appellant's first ground: "The sheriff had assurances from the requesting state in relation to slopping out. It would be surprising if he was not able to take them into account. We are satisfied on the authorities that he was able to."
He continued: "He had regard, rightly, to the fact that there was no suggestion that the assurances were not accurate, and to the fact that it was not contended that Ireland had any history of failing to comply with assurances. It was open to the sheriff to place reliance upon the assurances. There was nothing to indicate that he ought not to."
Turning to the second ground of appeal, Lord Doherty began: "The case law on article 3 suggests that making prisoners in multi-occupancy cells slop out is often likely to be inhuman or degrading treatment or punishment in breach of article 3. That falls to be contrasted with the case law relating to inadequate partitioning of toilet facilities in such cells, which indicates that that condition is not sufficient on its own to be a breach of article 3 of ECHR."
He went on to say: "We are not convinced that the sheriff required to seek an assurance from the respondent that the appellant would not be held in a multi-occupancy cell where his personal space would be less than 4 square metres and where the toilet facilities would not be fully partitioned to ceiling height. In our opinion the sheriff was entitled to conclude that being held in a cell with 3-4 square metres of personal space with a toilet which was semi-partitioned did not reach the threshold of a breach of article 3, and therefore that the suggested assurance was not required."
The court therefore concluded that the appellant's grounds of appeal were not arguable and refused the appeal.