Hibernian Law Medals conferred on Mary McAleese and Ms Justice Catherine McGuinness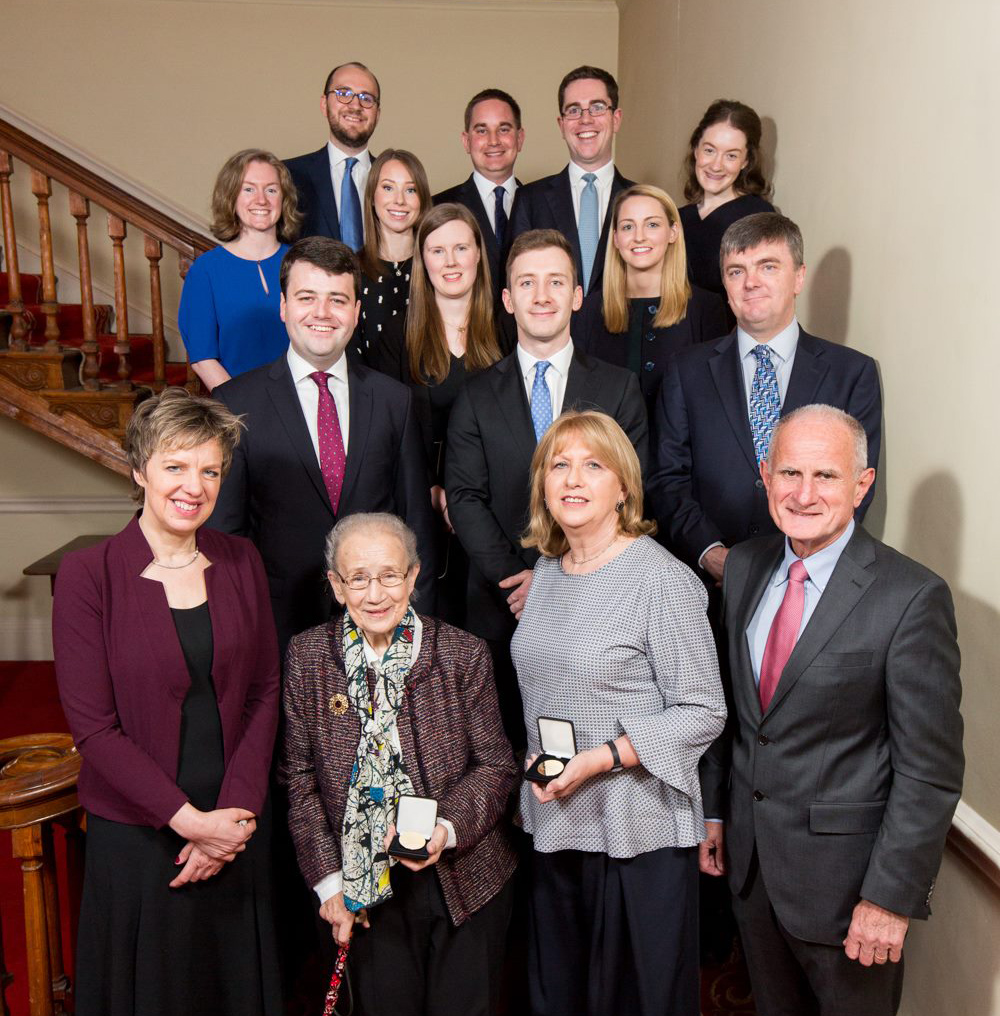 The Hibernian Law Journal welcomed guests from across the legal profession to Blackhall Place for the conferral of the Hibernian Law Medals upon the 8th President of Ireland, Professor Mary McAleese, and former Supreme Court Justice, Ms Justice Catherine McGuinness.
Attendees heard impassioned speeches from both recipients on what was due to be the date of departure for the United Kingdom from the European Union.
In accepting her award, Ms Justice McGuinness noted that both of this year's recipients were born in Northern Ireland and "from the two communities".
When reflecting on the gender balance within the legal profession, she noted that in Ireland, the judiciary was far more balanced in comparison to other jurisdictions but noted that there was a need for improvement within the senior ranks of the legal profession.
Ms Justice McGuinness noted Brexit as being "an opportunity for the Irish legal system" and recognised the recent comments by the Chief Justice of Ireland, Mr Justice Frank Clarke, about the need for an independent judiciary that can be respected throughout Europe and that this respect was gained through the manner in which judges are appointed.
Post-Brexit, Ms Justice McGuinness highlighted that Ireland would be in a prime position to provide a common law system which could still address questions that may arise in the course of the work of the European Union.
Professor McAleese, in accepting her award, spoke movingly of her experience growing up in Ardoyne during the Troubles, and reflected that during this time "one of the things that brought us back to some degree of reality and hope in fact was the law" and in this respect noted the pivotal role of the Good Friday Agreement.
She spoke of an admiration for Daniel O'Connell, shared with her husband Dr Martin McAleese who was also in attendance. Noting that O'Connell believed he was an abject failure when he died, she said that "we are still on the way to realising his full ambition for the future of this island".
In discussing Brexit in the context of Irish unity, Professor McAleese emphasised the need to debate in a respectful and generous way and encouraged the involvement of young lawyers in this respect.
The conferral ceremony, sponsored by McCann FitzGerald, was chaired by Senator Ivana Bacik, who was introduced by Ciarán Donohue, the editor-in-chief of the Hibernian Law Journal.
Deputy editors Siobhán Power and Daniel Griffin read citations in honour of Ms Justice Catherine McGuinness and Professor Mary McAleese respectively.