Hibernian Law Journal's 20th volume launched virtually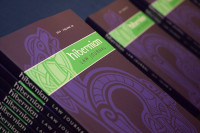 The Hibernian Law Journal has announced the virtual publication of its 20th volume, now available online via HeinOnline and Westlaw.
Volume 20 explores topics including the contemporary impacts of the Covid-19 pandemic on the courts, the examinership process and insurance claims as well as a sweeping historical overview of the Revenue Commissioners as preferential creditors and an exploration of the constitutional concepts of sovereignty.
Writing in the foreword, Mr Justice Michael Twomey said: "Each contribution in this year's Volume of the Hibernian Law Journal brings a unique and fascinating insight into a diverse area of law. Immense credit is due to the authors and the editorial board for bringing this Journal to publication, and their hard work and dedication in this regard is to be commended."
Matthew Gregg, editor-in-chief of the Journal for Volume 20, said: "On behalf of the editorial board, I am delighted to present Volume 20 of the Journal. It is my sincere wish that the readers enjoy the contributions in this volume as much as we enjoyed working with the authors to bring them to publication."
Hans Fischer-Kerrane was awarded the prize of Best Overall Contribution to Volume 20 for his article entitled The Curious Case of Arthur Celmer, which analyses the various Irish and European judgments delivered in the context of Mr Celmer's protracted proceedings resisting extradition pursuant to the European Arrest Warrant system.
The prize for Best Trainee Contribution, sponsored by the Law Society of Ireland, was awarded to Joshua Kieran Glennon, a trainee with McCann FitzGerald LLP, for his article First Among Equals: The Revenue Commissioners as Preferential Creditors in Corporate Insolvency.
Volume 20 also includes book reviews of the latest editions of Charleton & McDermott's Criminal Law and Evidence and Wylie on Irish Land Law, together with the speeches delivered at the Journal's annual lecture on the challenges of regulating online disinformation.
Mr Gregg concluded: "I would like to express my sincere thanks to the Law Society of Ireland and the great many supporters of the Journal, including our judge-in-residence Mr Justice Twomey, Mr T P Kennedy, editorial advisor to the Journal and director of education at the Law Society of Ireland, our academic reviewers, our publishers Thomson Reuters, our benefactors drawn from the Inner Bar and our sponsor firms Arthur Cox LLP, Matheson, and McCann FitzGerald LLP."
It is possible to purchase physical copies of the Journal by emailing editor@hibernianlawjournal.com, and further information about the Journal can be found on its website. The Journal will be inviting submissions for case notes on topical cases from the previous year from 1 February 2022.