Government formally backs Irish legal bid to be post-Brexit international legal services hub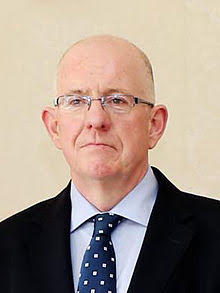 The Government has given its formal backing to a joint initiative of The Bar of Ireland, the Law Society and the wider legal community in promoting Ireland as a post-Brexit centre for international legal services.
The initiative, also supported by IDA Ireland, will now form part of the Government's Brexit strategy, Justice Minister Charlie Flanagan said.
The Government had already been broadly supportive of the proposal brought forward by the legal representative bodies in May 2018.
Mr Flanagan said: "I want to compliment our legal sector for taking this key initiative. While the ultimate outcome of the Brexit negotiations remains to be seen, the withdrawal of the UK from the European Union will leave Ireland as the only English-speaking common law jurisdiction in the Union. We will be well placed to provide expanded international litigation and arbitration services.
"Having been supportive of this initiative in its development, the Government has today expressed its support in more formal terms. We recognise the initiative as a timely means of positively exploiting the competitive advantages of our courts and legal systems, which are of global renown, in the provision of EU and other international legal services in a post-Brexit setting. This will also enhance Ireland's international reputation in terms of the wider economy."
An implementation group will now be established to move forward the initiative with the participation of all key stakeholders, including Government Departments and IDA Ireland.
Mr Flanagan added: "Measures being proposed to further develop our courts and legal systems in support of this initiative will be considered as an integral part of the Government's continuing programme of courts, judicial, legislative and legal services reform that I am leading at my Department in conjunction with the Courts Service and the judiciary."
Micheál P O'Higgins SC, chair of the Bar Council, said: "As the UK prepares to withdraw from the European Union, we are already seeing an uptake in international businesses seeking to make Ireland their European base, so it is prudent that there would be a coordinated and strategic approach – across all sectors – to ensure that Ireland capitalises on this in whatever way it can.
"The legal sector is no different and that is why the Council of The Bar of Ireland has been driving this initiative for the past 18 months and we welcome the formal approval by Government today, which will see the initiative form a component of the Government's overall Brexit strategy."
Mr O'Higgins added: "We look forward to working with our colleagues in the wider legal community, and with the IDA and Government stakeholders, in the establishment of an implementation group to take the initiative forward."