Flanagan signs new money laundering laws into effect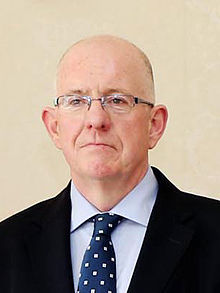 Justice Minister Charlie Flanagan has brought into effect new legislation aimed at tackling money laundering, completing Ireland's transposition of the EU's Fourth AML Directive.
The minister signed two statutory instruments commencing the provisions of the Criminal Justice (Money Laundering and Terrorist Financing) (Amendment) Act 2018 and giving effect to Regulations which ensure gambling service providers are brought within the scope of anti-money laundering legislation.
The Act obliges "designated persons" (banks and other financial institutions) to carry out due diligence tests verifying customers' identity and assess risk, both in terms of business-wide risk assessments as well as an individual assessment in relation to each business relationship.
It also expands the remit of the Financial Intelligence Unit in An Garda Síochána and provides for enhanced international cooperation; extends the designation of a "politically exposed person" to those resident in this jurisdiction; and lowers the threshold for determining whether a high-value goods dealer falls under the Act from €15,000 to €10,000.
Meanwhile, the Criminal Justice (Money Laundering and Terrorist Financing) Act 2010 (Section 25) (Prescribed Class of Designated Person) Regulations 2018 prescribe providers of gambling services, other than certain excluded services, as designated persons under the legislation.
This will mean those providers (which include bookmakers and online gambling providers) will be obliged to carry out customer due diligence, report suspicious transactions, and comply with the other obligations under the Act.
All gambling service providers are captured by the new Regulations other than lotteries, bingo, gaming and amusement machines and land-based poker, which were found to be low-risk following a risk assessment of the sector. The customer due diligence requirements only apply where the amount of money paid to the customer or paid by the customer is more than €2,000.
Announcing the commencement of the new Act, Mr Flanagan said: "This legislation is really important. Money laundering is a crime that helps serious criminals and terrorists to function, destroying lives in the process.
"Criminals seek to exploit the EU's open borders and this EU-wide measure is really important for that reason. I and my Government colleagues are committed to systematically tackling corruption and organised crime."