Flanagan reiterates support for stricter sentencing of repeat sexual offenders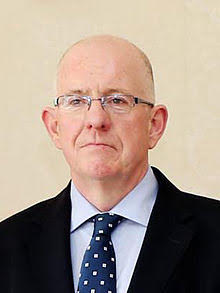 Justice Minister Charlie Flanagan has reiterated his support for stricter sentencing of repeat sexual offenders following a 10 per cent increase in recorded sexual offences over the past year.
The latest crime figures from the Central Statistics Office (CSO), which are still being published "under reservation", show that 2,947 sexual offences were recorded in the year to the end of June.
The figure represents a 10.2 per cent increase on the year before, with the number of rapes recorded up by nearly 20 per cent to 671.
Mr Flanagan said: "The rise in the recorded incidents of sexual assault, and particularly rape, is concerning. I strongly welcome the reporting of sexual assaults which are generally under-reported and urge victims to come forward.
"An Garda Síochána are fully committed to tackling this insidious form of violence and abuse. Recent Garda measures include the establishment of the National Protective Services Bureau which is tasked with improving services to victims of sexual and domestic violence, improving the investigation of sexual and domestic violence incidents, and identifying and managing risk."
He added: "On the legislative front, last week in the Dáil I commenced Second Stage of the Criminal Law (Sexual Offences) (Amendment) Bill 2018. This Bill will provide for stricter sentencing for repeat sexual offenders.
"I am anxious to ensure that victims have appropriate protections during a court process and I have ordered a review of the investigation and prosecution of sexual offences with an emphasis on vulnerable witnesses.
"A review group, chaired by Tom O'Malley, an expert in this field, will report to me by the end of the year."
The review group has been asked to give particular regard to reports by expert bodies including the Rape Crisis Network Ireland.