Flanagan backs counsellors not lawyers for rape complainants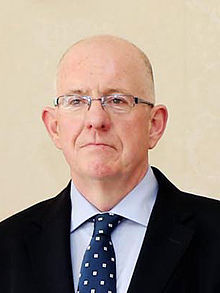 Justice Minister Charlie Flanagan has set out his opposition to independent legal representation for complainants in rape trials in an interview with the Irish Examiner.
Mr Flanagan has proposed instead that counsellors will assist complainants through the trial process.
He said that if complainants were allowed to have lawyers cross-examine accused persons, this would "fundamentally change the balance of our criminal law".
The measures are currently under consideration by a review which Mr Flanagan set up in April, in the wake of a high-profile rape trial in Belfast.
It followed criticism over aspects of the nine-week Belfast Crown Court trial of Ireland and Ulster rugby players Paddy Jackson and Stuart Olding, who were found not guilty of raping a woman.
Mr Flanagan told the Irish Examiner: "I would like to see a level of advocacy in such court cases where they will look to counsellors who will be in a position to take them through the process, who will be in a position to advise them on possible legal technical traps that may be set for them which cause them upset."
The minister also suggested that "pre-trial protocols, where there is assistance and expertise available to complaints, prior to and during the course of the trial", would help support complainants.
He said: "It has been put to me that the courts are cold places for victims and complainants, for women in particular.
"I want to change that. Our courts need to serve our people and need to serve our women in these cases."
The review, chaired by barrister and law professor Tom O'Malley, will report back in December.