Fianna Fáil leader addresses McCann FitzGerald morning webinar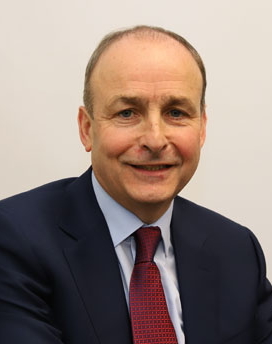 Fianna Fáil leader Micheál Martin outlined his views on the future of the Irish economy after COVID-19 at a webinar hosted by law firm McCann FitzGerald this morning.
In conversation with the firm's managing partner Barry Devereux, the opposition leader said the next government should prioritise targeted stimulus in areas that would "modernise" the economy, with particular support for SMEs and the hospitality and tourism sectors.
Mr Martin is currently involved in protracted government formation talks with Fine Gael and the Green Party. Between them, the three parties would have a four-seat majority in the Dáil.
Commenting on the talks, Mr Martin said: "We have gone through all issues in great detail during these talks and in examining what a potential Programme for Government could look like.
"Taking time now is a positive thing, meaning that any government that is formed will be durable and lasting. That is what we need right now, a government that is in it for the long run to successfully lead economic recovery out of this current crisis."
Mr Devereux told the webinar that a key business learning from COVID-19 is the ability of many organisations to operate as normal with employees working remotely.
He said: "There might be an opportunity for the nation to rethink how we work and live, particularly in the context of city living. Both McCann FitzGerald as an organisation and our clients are reporting the efficiency of remote working, and perhaps we will see a lasting impact in people no longer feeling the need to migrate to cities, and, instead, seeing shared service centres in satellite towns throughout the country."
Mr Martin also discussed Brexit and its impact on the global economic recovery, calling on the UK government to pause Brexit and give precedence to the health and economic recovery from COVID-19.