Eversheds Sutherland welcomes American football stars to Dublin HQ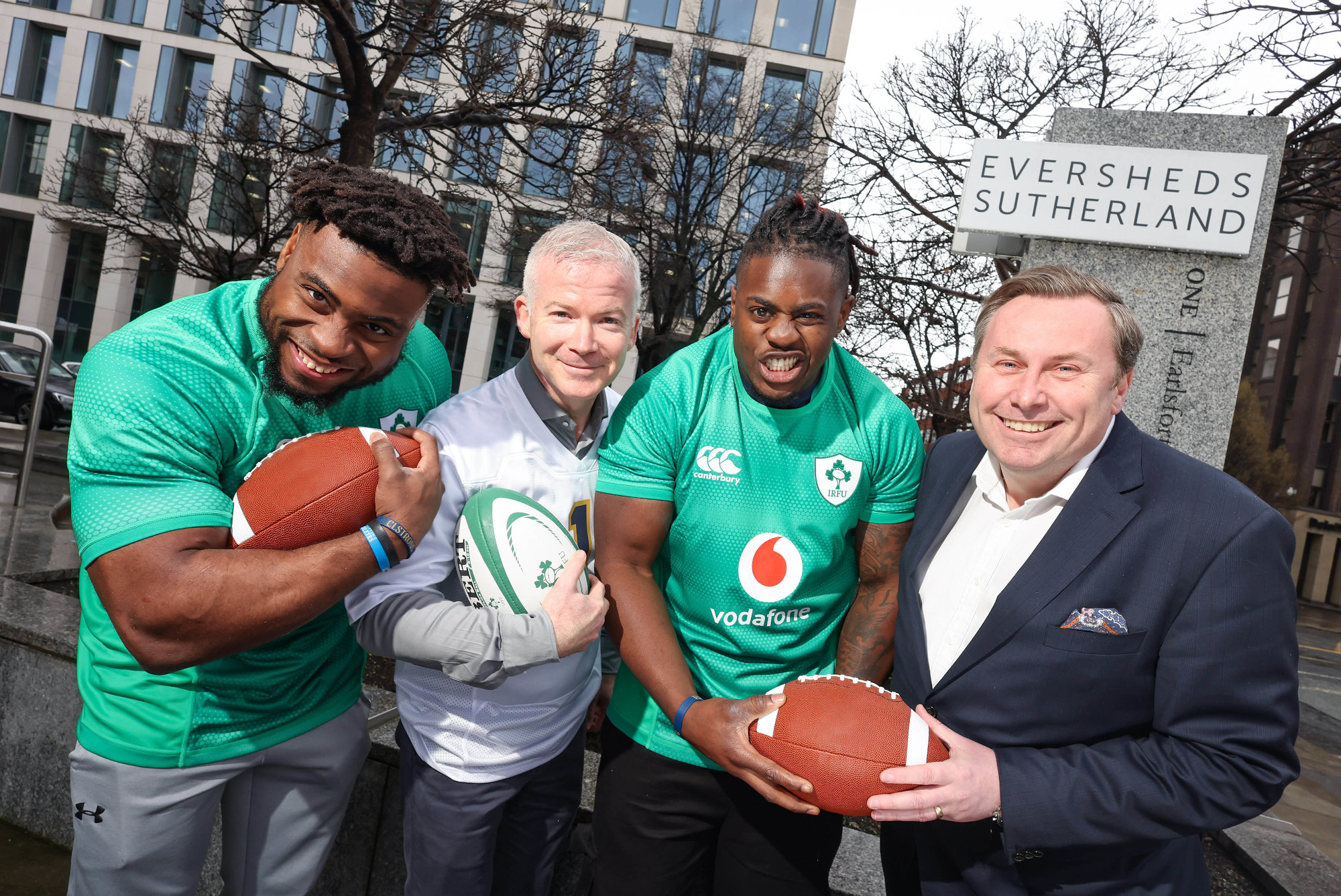 Global law firm Eversheds Sutherland has welcomed star players from one of the top American football teams to its Dublin office ahead of an upcoming game which will see 40,000 American fans come to Ireland.
The law firm is the official legal partner of the US College Football Classic 2023 and welcomed Notre Dame's defensive lineman and Texas native Nana Osafo-Mensah and New York running back Audric Estimé to its office to celebrate the partnership.
In August, a hotly anticipated fixture between one of the oldest rivalries in College Football — Notre Dame v Navy — will return to the Aviva Stadium, a game set to be a complete sell-out with 40,000 Americans expected to travel to Ireland. It will also be broadcast to millions in the US via broadcaster NBC.
The influx of fans is the largest transatlantic movement of Americans for any sporting event ever and is expected to boost the Irish economy to the tune of an estimated €147 million.
Alan Connell, managing partner of Eversheds Sutherland LLP, said: "We are very excited to welcome Nana and Audric to our offices today to meet with our colleagues and we are delighted to be the exclusive legal partner of this year's classic, following the huge success of the 2022 season opener.
"With our growing global footprint, including nine offices across the US, we are the standout law firm of choice for internationally-focused US companies and financial institutions looking to do business, in and from Ireland, across Europe and beyond.
"Having regard to our extensive internationally-focused client base, with many of our clients doing business both in Ireland and the US, we are proud to support this important and unique US-Ireland event. We are really looking forward to another great spectacle for the 2023 season opener this summer."
Eversheds Sutherland has nine offices in the US. In addition to San Francisco, Eversheds Sutherland has opened new offices in Chicago and San Diego since 2019.