Eversheds Sutherland hosts David Davis in Dublin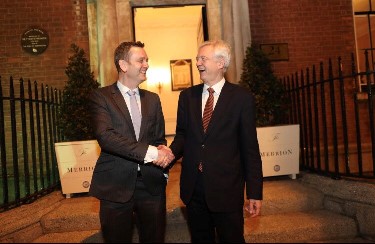 Eversheds Sutherland hosted former Brexit secretary David Davis as the keynote speaker at its annual leaders' dinner in Dublin last night.
Mr Davis was the UK's Brexit secretary from 13 July 2016 until 8 July 2018, when he resigned over differences with the Prime Minister's Brexit plan.
Managing partner Alan Murphy, introducing Mr Davis, told the event: "For me, an essential part of bringing others with us is to listen to their views because if we only surround ourselves with like-minded people, we will always inevitably arrive at the same decision. And that decision will not be one of compromise and usually will not lead to a solution.
"So, that is why I am very much looking forward to hearing the views of our guest speaker. We may not necessarily agree with them but all the more reason to listen."