DPP attends court to observe coronavirus measures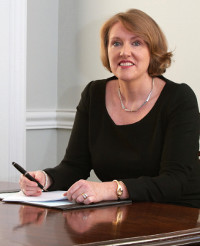 The Director of Public Prosecutions, Claire Loftus, paid a visit to the Criminal Courts of Justice in Dublin yesterday to observe the operation of the courts during the coronavirus crisis.
There were 24 High Court bail applications listed for hearing before Ms Justice Mary Rose Gearty on Thursday, with a staggered list to minimise the numbers of people attending court.
Ms Loftus was present in court during the callover of the list on Thursday morning, as were other interested parties.
The High Court is dealing with approximately 20 applications for bail on a daily basis and only those involved in each case are allowed into the courtroom at any one time.
Those in custody appear via video link from their respective prisons to reduce the risk of infection amongst people who continue to work in the justice system.
The courts are only dealing with urgent matters at present, such as bail applications, arrests, wardship cases, domestic violence and family law matters.